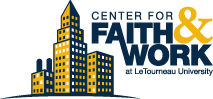 "Besides paychecks, people need meaning—and it's there if they know how to see it," High Calling Senior Editor Marcus Goodyear said. "Work matters to God; Americans need to see that it matters to the Church."
Dallas, TX (PRWEB) August 30, 2013
This Labor Day weekend, while unemployment rises and national morale dips, a growing number of churches will pray for work—not just to find it but to see God in it.
"Besides paychecks, people need meaning—and it's there if they know how to see it," High Calling Senior Editor Marcus Goodyear said. "Work matters to God; Americans need to see that it matters to the Church."
The High Calling and The Center for Faith & Work at LeTourneau University—evidence of the growing movement to merge Sunday and workdays—offer a wealth of materials to help churches turn Labor Day Sunday into a prayer for work.
According to national research commissioned by LeTourneau University, pastors know that work is from God:

93 percent of pastors surveyed agreed that helping people integrate faith into daily work is "very important"
However,

68 percent of those pastors would claim less than excellent knowledge of workplace issues
26 percent address "faith at work" in sermons
8 percent provide prayer support for people struggling with job-related issues.
"Pastors are busy, but 98 percent say they want to visit their members at work," Bill Peel, executive director of the Center for Faith & Work at LeTourneau University said. "Most pastors just need to be invited. Churchgoers need to pick up the phone and call their pastors. Or text! Pastors need to talk about work from the pulpit—and what better time than Labor Day Sunday?"
This year the LeTourneau Center for Faith & Work and The High Calling will help churches fill an entire service to celebrate work with:
Sermon outlines. An archive of more than 50 on faith and work
High-def videos. Sermon illustrations and case studies of Christians on the job
Worship Songs. Relevant hymns and praise songs
Commissioning service. Empowering people to view their work as a mission
Workplace Prayers. Pastoral prayers and other prayers for the workplace
Small group curricula. Studies to help develop workplace faith and ethics
Ongoing ministry support. Daily online devotions, newsletters, articles and quarterly Sermon Notes and more.
Find more information online:
About The High Calling http://www.TheHighCalling.org
The High Calling is an online magazine and community founded on the belief that God cares about every person's daily work. The site features articles, interviews, devotionals and inspirational stories showing God at work in work, family and the broader culture. The High Calling is a program of The Foundations for Laity Renewal, founded by the H.E. Butt Foundation.
About the Center for Faith & Work at LeTourneau http://www.CenterforFaithandWork.com
The Center for Faith & Work at LeTourneau University carries on the faith-work legacy of R.G. LeTourneau and offers opportunities for life-long learning and supportive resources for spiritual formation and influence in the workplace.
For interviews, contact: Michael Conrad Michael(at)Lovell-Fairchild(dot)com 214-616-0320