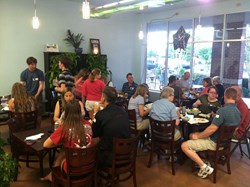 Cary, North Carolina (PRWEB) August 30, 2013
Leading commercial furniture distributor, Restaurant Furniture.net recently helped one of the Indoor Greens Mini Golf and Café update the design of their cafe in Cary, North Carolina.
Indoor Greens Mini Golf and Café, located in Cary, has created a successful and unique business combining indoor miniature golf and café. Indoor Greens is a family-owned business with its only location in Cary, NC. Their plan is to be part of the strong network of locally-owned businesses that provide entertainment and community support for our local organizations.
Their 3,200 square footing course offers golfers of all levels plenty of options for play and entertainment. Their Clubhouse Café offers fresh and healthy salads, sandwiches, and snacks, along with a changing selection of unique café specials and handmade desserts.
Indoor Greens Mini Gold and Café owner Michael Luff turned to Restaurant Furniture.net when he realized that he needed to upgrade the seating plan by replacing all of the chairs and tables in the Clubhouse Cafe. "Michael opted to go with the classic Wood American Back Restaurant Chair with the wood seat in a dark mahogany frame finish. It's a very popular restaurant chair. As a classic American, café, Luff needed a classic chair that they knew would be durable and stand up to heavy usage without getting wobbly or breaking, like a chair not constructed for commercial use would tend to do," Restaurant Furniture.net sales representative Dave said. All wood chairs sold by Restaurant Furniture.net are finished in a 7-stage process utilizing premium polyurethane from Sherwin Williams.
For the tables, Luff decided to go with the 30" x 30" solid wood plank table top in dark mahogany finish with eased edge which is on sale for only $82. He also bought 2 solid wood plank table tops in the size 30" x 48" which sells for $93 at Restaurant Furniture.net which gives him the flexibility for different seating options. These solid wood table tops are proudly made in the U.S.A and are available in 5 standard finishes or black or a custom finish for an extra charge. He went with 30" high X prong table base for only $23.50.
Restaurant Furniture.net Wood American Back Restaurant Chair sells for $70. In addition to the dark mahogany frame finish which the Chens selected, the chair also comes in mahogany, dark cherry, walnut, natural and black. Whereas the Luff decided to go with the wood seat, the Wood American Back Restaurant Chair is also available with an upholstered seat in dozens of vinyl and fabric choices. "Luff impressed by the quality of our wood chairs when compared to the other chairs on the market. We use more wood, thicker cross sections and reinforce the chair's pressure points with heavy duty steel," Dave stated. "The chair's wider back provides more comfort and the seat is made out of solid wood, rather than the usual plywood that you find. Luff appreciated the workmanship," he added.
For about $2476, Michael Luff replaced all the chairs and tables in his Clubhouse Cafe. Luff was fully satisfied with the purchase, saying after the chairs and tables had been delivered and put to use that "the chairs are working out beautifully. The customers love the dark mahogany."
Browse Restaurant Furniture Supply's full selection of commercial grade chairs, bar stools, table tops, table bases, booths and patio furniture at http://www.restaurantfurniture.net or talk to a customer service representative at (888) 409-1115.
Indoor Greens Mini Golf and Café can be reached at: (919) 825-1818