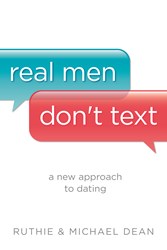 Real love based on good communication is not a relic of the past.
Carol Stream, IL (PRWEB) August 28, 2013
One in ten people have been dumped via text, according to a study conducted by Recombu.com and reported by the Digital Journal in January 2012. Nearly a quarter of all U.S. respondents to the survey have sent a sexually provocative picture to a partner or loved one. USA Today noted in an an article, "Cellphones and Texting Have Blown Up the Dating Culture" (July 19, 2013) that one-third of men (31%) and women (33%) agree it's less intimidating to ask for a date via text versus a phone call. More men (44%) than women (37%) say mobile devices make it easier to flirt and get acquainted. Katy Perry confessed on national TV that Russell Brand instigated their divorce over text. In a recent New York Times article, "The End of Courtship?," (January 11, 2013) Alex Williams suggests the word date be removed from the dictionary because traditional dating has been replaced by late-night texts, group hangouts, and women who sit around clutching their phones, waiting for any sign of male interest.
Husband-and wife-team Michael and Ruthie Dean challenge these new dating norms, indicating they are harmful to women looking for that perfect guy, in their book, "Real Men Don't Text: A New Approach to Dating," which releases from Tyndale House Publishers this September.
Dating books like "Flirtexting," "Get the Guy," "The Gaggle," and "Not Your Mother's Rules" encourage embracing texting and even sexting, making women look more like available sex kittens than high-value members of society. While technology has made communication easier than ever before, it has also created more confusion, more heartbreak, and poorer communication.
Michael and Ruthie show through practical advice, personal experience, and thousands of success stories how confusing texting is to relationships and how women can take control of their love lives, starting with a phone call. No more late-night texts, mixed signals, meaningless hookups, or disappointing relationships, because "Real Men Don't Text" brings hope to the confusing game of love.
The Deans provide a female and male perspective on dating topics like communication, sex, beauty and self-worth, relationship red flags, online dating, and what to look for in a man. They challenge women to hold men to high standards in order to protect themselves from unnecessary heartache, indicating that when asked, the right guy will always man up and call.
Michael and Ruthie advocate for a second, or sometimes 22nd, chance for women to find love, even when they feel they have made too many mistakes. "Real Men Don't Text" offers a depth of hope that is refreshing in a culture that is constantly telling women to lower their expectations. Real love based on good communication is not a relic of the past, and the Deans have stories to prove it.
Ruthie and Michael Dean are available for national interviews to promote the September 2013 release of "Real Men Don't Text." Contact Christy Stroud at christystroud(at)tyndale(dot)com or (630) 784-5389 to schedule an interview, obtain an excerpt of the book, or learn more.
Ruthie and Michael Dean grew up just down the street from one another, but not being fans of convenience, they fell in love long-distance while Ruthie lived in China and Michael lived in Germany. Now happily married, the Deans love to run and take advantage of Sunday coffee dates (without technology), and they can often be spotted driving around Nashville in Michael's classic Ford truck. You can learn more about Michael and Ruthie and share your own stories of dating, love, and romance on Ruthie's blog, http://www.ruthiedean.com, or on Twitter @MichaelDean10 or @Ruthie_Dean.