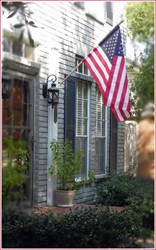 Little Rock, AR (PRWEB) August 31, 2013
The United States Constitution Day, also known as Citizenship day, is an American federal holiday that recognizes the ratification of the United States Constitution, and also recognizes all who have become citizens due to either coming of age or naturalization. It is observed on September 17, the day the U.S. Constitutional Convention signed the Constitution in 1787.
"On Sept. 17, 1787, the U.S. Constitution was signed by thirty-nine brave men who changed the course of history. Now, Constitution Day is a time for us to continue their legacy and develop habits of citizenship for a new generation of Americans," explained Kerry McCoy, owner of FlagandBanner.com, a company that sells American Made U.S. Flags and other patriotic products.
On February 29, 1952, President Harry Truman signed a bill establishing September 17 as Citizenship day replacing the May observance and moving the date to the one on which the U.S. Constitution was signed in 1787. The intent of the bill was to give recognition to those who had become American Citizens during the preceding year.
"Today, we consider Constitution Day as a sort of birthday for our Constitution and it serves as a means for new American citizens to express their pride in their citizenship," McCoy stated.
Constitution Day also designates a time to honor the Constitution of America and learn more about the famous piece of legislation. The Act that passed the holiday also states that federally funded schools are required to provide lessons on the U.S. Constitution during the holiday.
"FlagandBanner.com has a large selection of patriotic gifts, many made right here in America, that are great citizenship gifts for friends and family members who have recently become US citizens. Consider giving them, their first U.S. flag to hang outside their home for example. All of FlagandBanner.com's American flags are made in the USA," McCoy explained offering gift ideas for new citizens such as lapel pins, patriotic ties, banners, posters and signs. "For those educators who are federally mandated to educate students about the U.S. Constitution, we carry hands on materials for students to learn more about the Constitution and America in general."
FlagandBanner.com has been in business since 1975 in Little Rock, Arkansas and has become a leading manufacturer and retailer of flags, banners, pennants and patriotic décor and gifts.