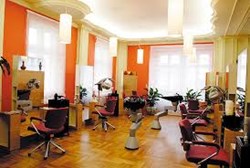 A Safe & Smart Solution Lice Removal
Miami, FL (PRWEB) August 28, 2013
Lice Troopers, the all-natural head lice removal service is proud to announce the opening of their first South Florida location in Bay Harbor Islands, Florida at 1005 Kane Concourse, Bal Harbor, FL 33154. To celebrate the grand opening of Lice Troopers, their full-service lice removal salon, complimentary head lice checks will be given to anyone that suspects they may have the parasites on Sunday, September 1, 2013 between 10 a.m. and 2 p.m., by appointment only.
An extension of Lice Busters of NYC, Lice Troopers uses the Lice Busters NYC Method™, which consists of Strand-By-Strand Nit Removal - considered by many experts to be the most thorough and effective head lice removal technique in the world. A scientifically proven process that completely rids the hair of lice and nits, Lice Troopers is the only certified head lice removal experts in Florida. Additionally, all of the lice treatment products used by Lice Troopers during the removal process are 100-percent natural, organic, non-toxic, and are completely safe for babies, the elderly and pregnant women.
"My mother-in-law was my entrepreneurial inspiration for starting Lice Troopers," says President and Founder, Mrs. Harel. "She opened Lice Busters NYC over 25 years ago and has been servicing the Northeast ever since. I learned from the best and I learned quickly, as I grew up in a house in which clients came at all hours of the day and night to get de-liced and remedied."
In addition to their salon, Lice Troopers provides their lice removal services in-homes and at schools. They currently service Dade and Broward Counties including Miami, Coral Gables, Key Biscayne, Miami Beach, North Miami, Sunny Isles Beach, Fort Lauderdale, Pinecrest, Bal Harbor, Aventura, Surfside, and Weston.
For more facts on lice, lice removal and lice solutions, or to schedule an appointment or school consultation, please visit the Lice Troopers website at: http://www.licetroopers.com/ or call 1-800-403-LICE.
About Lice Troopers
Lice Troopers is an All-Natural, guaranteed Head Lice Removal Service™ that manually removes head lice safely and discreetly, in a private salon setting or a chosen location. Providing safe solutions for frantic families, Lice Troopers have successfully treated thousands of families nationwide. Our services are recommended by hundreds of pediatricians and are reimbursed by most major health insurance carriers, flexible spending accounts and health savings accounts. We also provide a 100-percent guarantee that our services will successfully treat your whole family's head lice problem.
Contact for Lice Troopers:
Jennie Harel, President
info(at)licetroopers(dot)com
800.403.5423