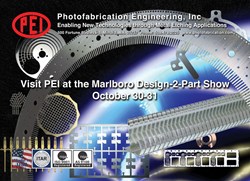 "Our plan is to continue to establish domestic and international sales representatives over the coming months, says Robert Ashman, PEI's sales manager.
Milford, Massachusetts (PRWEB) August 30, 2013
During the past two months, the Precision Products Division of Photofabrication Engineering (PEI) has expanded its sales coverage by adding several U.S. and Canadian sales representatives. Most of the new representatives handle the complete product line of chemically-etched metal parts produced by PEI, while some focus exclusively on products related to the lids, covers and microelectronics products industry. By visiting PEI's interactive online sales representative map site, companies looking for photochemically-etched products can now find the sales rep organization nearest to them simply by clicking on their state or province on the map.
"Our plan is to continue to establish domestic sales representatives over the coming months to make it easier and faster for customers to define and implement their product designs and production," says Robert Ashman, Sales Manager for Photofabrication Engineering. "As we proceed we will also be adding international sales representatives." Each time a new representative/representative organization is hired, the web site will be updated.
"Of course, anyone interested in Photofabrication Engineering's Precision Products is also welcome to contact me at 508-478-2025 or e-mail me at rashman(at)photofabrication(dot)com. PEI will also be exhibiting at the Marlboro (MA) Job Shop/Design-2-Product Show on October 30 and 31, and you are invited to stop by our booth and meet us."
Established in 1968, Photofabrication Engineering, Inc. is a world leader in precision metals fabrication, and has developed proprietary metal etching processes to create precision metal parts in thicknesses from 0.0005 in. to 0.125 in. from materials ranging from aluminum to zirconium. The firm is ITAR compliant and holds ISO 9001:2008 and AS9100 certifications. The Precision Products Division serves myriad manufacturing industries including aerospace, automotive, battery, consumer electronics, defense, fuel cell, medical (devices as well as implantables), microelectronics, semiconductor, and telecommunications.