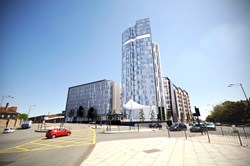 Phase 1 of the development, branded as The Gallery, is already built and 100% let
Liverpool, UK (PRWEB UK) 30 August 2013
The development, which has been re-branded as X1 The Quarter, is just a mere ¼ mile from Liverpool Marina and a ten minute walk from the world-famous Albert Dock; Phase 1 of the development, branded as The Gallery, is already built and 100% let, assuring those who choose to invest in the apartments of instant financial returns.
This is one of many projects in Liverpool built by X1 Developments in conjunction with Knight Knox International, following the successful launches of X1 Arndale House and X1 Borden Court, both on London Road.
While Phase 1 (The Gallery) of the complex is an existing building comprised of 83 fully-furnished apartments, construction has already begun on the new-build Phase 2 – The Courtyard, which by the time of its completion date in September 2014, will comprise 89 apartments split into 1-beds, 2-beds, 3-beds and town houses, in addition to an on-site gym, launderette, bike storage and 58 car parking spaces.
The construction of the whole development is set to be complete in 2017, with Phase 3 – The Studios, which will contain 155 studio apartments, set to be complete by September 2015, Phase 4 – The Terrace, which will contain 86 apartments split over 1, 2 and 3-bed townhouses, has a completion date of September 2016, while Phase 5 – The Tower will comprise of 101 apartments over 17 floors and is expected to be completed in 2017.
Head of Marketing at Knight Knox International, Samantha Jones commented: "Liverpool is an area in which we hold a particularly strong presence having recently launched Merebank Court, in addition to other developments including X1 Arndale House and X1 Borden Court."
Planning has already been approved by Liverpool City Council for the five-phase complex which stretches over both Stanhope Street and Plaza Boulevard.
Market leaders in worldwide property investments, Knight Knox International offers an extensive range of property and services on a global scale, from beach-front condos in Thailand and Turkey, to prime coastal land in Florida and boutique student accommodation and new-build residential projects in the UK.
If you would like to discuss further opportunities within the property market, please contact Knight Knox International on +44 (0)161 772 1370 or visit the website to view the full range of properties available.