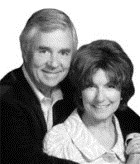 Carmel, CA (PRWEB) August 28, 2013
Haute Living Real Estate Network will feature Ben and Carole Heinrich as preferred real estate professionals. This unique circle of leading real estate agents presents opulent estates and extravagant properties to the affluent buyers and homeowners looking to purchase the foremost residential listings. Featuring properties with over-the-top amenities in the most exclusive locations, members of the Haute Living Real Estate Network ensure that readers are exposed to the finest the market has to offer.
About Haute Living Real Estate Network
The Real Estate media partner of Haute Living specializes in selecting top real estate professionals, thus creating the most prominent directory for exceptional listings. The network website is an online destination for all real estate related news, which features daily blog posts that provide up-to-date information on affluent markets and real estate developments. Access all of this information and more by visiting http://www.hauteresidence.com/.
About Ben and Carole Heinrich
The Heinrich Team consists of Ben, a respected broker who has been in real estate in Carmel since 1976, Carole, his wife, a Certified Financial Planner and former mortgage broker, Grant, their son, who is the team's off-site technically savvy MBA, and their in-house and virtual assistants. The Heinrich Team concept brings a wealth of knowledge and expertise to its clients. Ben and Carole are consistently in the top 1% of all agents in the Coldwell Banker International network and have been awarded the designation of International President's Premier Team.
To Learn More: Visit Ben & Carole Heinrich's Haute Real Estate Network Profile