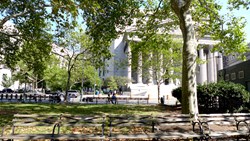 "Providing Photo Tours of New York City, a city I know and love, is a wonderful way for me to share my knowledge of an iconic location and the ever growing global enthusiasm for photography."
New York City, NY (PRWEB) August 29, 2013
"Providing Photo Tours of New York City, a city I know and love, is a wonderful way for me to share my knowledge of an iconic location and the ever growing global enthusiasm for photography." Architectural Photographer Ellen Fisch originated Ellen Fisch Photo Tours as a way to help professional and amateurs combine their enjoyment of photography with a productive tour of New York's most picturesque and photogenic places. Recently, Fisch looked for new and interesting places in NYC that offer unique architecture, monuments, architectural details and sights that tourists and locals would appreciate photographing. Fisch's current additions to her Photo Tours are Thomas Paine Park, Greeley Square Park and Herald Square Park. "These areas are often overlooked by locals and tourists," remarks Ellen Fisch. The parks are all surrounded by architectural gems associated with NYC and are a distinct part of the City's landscape.
Fisch notes that what makes a location unique is its architecture. "I would also consider natural architecture, such as mountains, trees, plantings and other aspects of landscape, contributory to place identification." Fisch tells her photo tour groups that the idea of photographing a place that will provide a connection when viewing the image expresses the photographer's personal ability to express his/her point of view. "Architecture, be it man made or natural, lends a singularity to locations."
"Thomas Paine Park is located in one of the most historic areas of Manhattan," says Photo Tour guide Ellen Fisch. The Park is part of iconic Foley Square, which is bordered by civic buildings that create a Historic District within the Wall Street neighborhood. Another feature to the Park is that it also borders NYC's China Town where the architecture and sights are distinctly colorful add flavor to this tour. Also recently added to the tours are two small parks between 32nd and 36th Streets on Avenue of the Americas. "Herald Square Park is located across the street from NYC's most renown department store: Macy's. The small park offers a lovely contrast of plantings with the surrounding architecture." Fisch is ever adding locations to her tour roster to keep photographers interested in the city's diversity and wealth of photographic opportunities. "Greeley Square Park is a little South of Herald Square Park and the two small Parks make a wonderful photographic tour in midtown Manhattan."
The tours have been extremely well received by all levels of photography devotees. "I learned to see my surroundings with Ellen Fisch," said one admirer. "Ellen opened up a world of visuals that I previously ignored. She literally opened my eyes." Others have posted the photographs taken on an Ellen Fisch Photo Tour on their web sites, Facebook, Tumblr, and other Internet sharing sites. "I am delighted to give the tour participants the benefit of my expertise," says Fisch. "I have spent many years in the field of architectural photography and truly enjoy sharing my insights with other photographers," says Fisch. "Furthermore, I have been exploring New York City since I was a child and want to give others the benefit of my knowledge of the city's wonders."
About: Ellen Fisch is a New York based architectural photographer providing Photo Tours in NYC. She has hosted photography tours, lectured and taught photography for many years sharing her knowledge, expertise and passion for photography with photo enthusiasts of all levels of skill.
To learn more about Photographer Ellen Fisch's architectural photography and Ellen Fisch Photo Tours visit: http://www.ellenfisch.com.