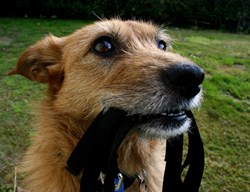 "We feel very confident that any one of the Park Cities Pet Sitters trainers can handle just about any dog training need that our clients might have."
- Joette White, PCPSI President
Dallas, TX (PRWEB) August 28, 2013
Park Cities Pet Sitter has just announced that they will be offering a Basic Obedience Group Dog Training class that will be comprised of five weekly training sessions beginning Tuesday, September 10th through Tuesday, October 15tth (class will not be held the week of Tuesday, September 24th). The classes will be held outdoors at Reverchon Park at 3305 Maple Avenue in Dallas, from 6:30pm-7:30pm each Tuesday during that period. A maximum of eight dogs will be allowed to enroll in the group class, with up to two handlers allowed per dog.
The Basic Obedience Group Dog Training class will focus on some of the most basic skills dogs need, such as: the proper ways to meet new people and new dogs, how to curb jumping, walking properly on a leash, handling by a human (for grooming and desensitization purposes), as well as learning commands such as sit, down, come and stay. Cost of the five week class will be $125 per dog. Those interested in taking the five week class with their dog can contact Park Cities Pet Sitter via their main telephone number, 214-828-0192, or via email at pets(at)pcpsi(dot)com.
The upcoming Group Dog Training class will be taught by new PCPSI trainer, Agatha Weisz. Park Cities Pet Sitter President, Joette White, recently brought Miss Weisz and trainer Ann Allums to the PCPSI team, and has effusive praise for these trainers' and their credentials. "Agatha and Ann are such great assets to our dog trainer team. They have diverse backgrounds and different strengths, and that is why we chose them. They really help round out our training team, and we feel very confident that any one of the Park Cities Pet Sitter trainers can handle just about any dog training need that our clients might have—whether it be the need for one-on-one training for a particular behavior problem, beginning obedience for a young dog or a group training class," said Ms. White.
Ms. Weisz is a full-time dog trainer and has been certified since 2008. She has been certified by the Certification Council for Professional Dog Trainers, and is also an AKC Canine Good Citizen evaluator.
Ms. Allums works as a Program Coordinator for the US Dog Agility Association, in addition to being a certified dog trainer since 2004. She previously worked for Best Friends Animal Society in Utah as a trainer, as well as the Association of Professional Dog Trainers, where she led the development of a training and evaluation program called CLASS "Canine Life and Social Skills."
Park Cities Pet Sitter, Inc. has served the Dallas area 7 days a week, 365 days a year since 1992. Pet sitting, daily dog walks, pet taxis, overnight sitting, pet supply shopping, litter box cleaning and dog training are all part of the services PCPSI offers. Park Cities Pet Sitter is bonded and insured, and all sitters are employees--not independent contractors. A manager is on-call 24 hours a day to handle any emergencies. Additional information about Park Cities Pet Sitter can be found on their website at http://www.pcpsi.com.