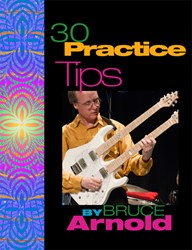 "I want to help students get into the best possible frame of mind, and give them sound advice, so practice can be the part of the day they look forward to the most."
New York, New York (PRWEB) August 30, 2013
There is no achievement of any skill without practice, and music is no exception. When the practice is entered into with a whole heart, and for love of an instrument and music, it can be a time of great joy and satisfaction. But too often the many hours dedicated to practice can become frustrating and tedious. In his many years of experience teaching music, Bruce Arnold has encountered this situation, and usually it has nothing to do with talent, or even dedication. "Sometimes the very privacy of practice can lead a person to feel isolated, all alone with problems they cannot solve. So they start to dread practicing, and that, I think, is tragic," says Arnold. "I want to help students get into the best possible frame of mind and give them sound advice so practice can be the part of the day they look forward to the most."
30 Practice Tips contains no "shortcuts to success." Arnold does not believe there is a substitute for work. But directing one's energies in the right way is key as well as a logical approach to time allocation. Utilizing his own experiences as a musician as well as an educator, Bruce Arnold has analyzed the learning process and the various pitfalls that can be encountered. The tips cover technique and physical development, how to organize practicing on a micro and macro level, the best approach to master fast playing, rhythm problems, sight reading, long and short term memory and how they function together, and even the psychological and social aspect of practicing and playing.
The course is organized into 30 short videos, in which Arnold presents each tip in a friendly, encouraging manner. The language is simple and easy to understand. Each tip is one that Arnold has personally taught his students, with excellent results. In many ways this is a compendium of conversations that Arnold has had with private students over his 30-plus years of teaching. "Lessons aren't just about learning music; I have had long conversations with my students about their practice time and their goals, and these suggestions have developed out of those dialogues and are as important as anything else I teach."
As with all Muse-Eek products, customers are never left on their own, but rather have access to Bruce Arnold through both email and his blog at brucearnold.com.  If problems in comprehension or process arise, Mr. Arnold is available to answer questions and clarify concepts. There is also an extensive and searchable FAQ section of the muse-eek.com website.  This interactivity in the service of education is what sets all Muse-Eek products apart from the herd.