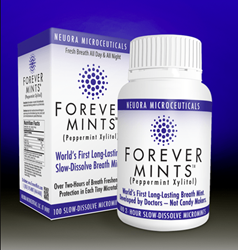 It's a tiny breath mint that's one-half the size of a Tic-Tac and is equal to 40 Altoids in duration.
Los Angeles, CA (PRWEB) August 29, 2013
NeuOra Microceuticals (http://www.NeuOra.com) announced today the development and release of what it calls the "world's longest lasting breath mint."
Called "ForeverMints" (http://www.ForeverMints.com) this time-release "micro-dot"-sized breath mint adheres to the upper or lower rear gum, turns to a soft gel that takes hours to dissolve.
As it dissolves, it continuously releases all natural peppermint flavoring and contains a sweetener that has been shown in hundreds of studies to kill the germs that cause bad breath, plaque and cavities.
They even claim their patent-pending "dot" takes up to 8 hours to dissolve at night so you wake up in the morning with "fresh, kissable breath—ideal for honeymooners and newlyweds."
ForeverMints is the result of a collaboration between two doctors: Douglas Pratt, a University of California San Francisco Medical Center-trained pharmacologist with a research background in time-release technologies and Greggory DeVore, a Yale University trained physician specializing in diagnostic technologies.
The inventors claim their invention could revolutionize the multi-billion dollar-a-year breath freshening industry (candy mints, gums, sprays, and mouthwashes).
"What all of these traditional breath freshening products have in common," explains Dr. Pratt, "is they only last for a few minutes and, in most cases, only temporarily mask the problem. What is needed is a multi-hour solution that gets to the root of the problem."
"The most popular breath mint on the market today is the Altoid," adds Dr. DeVore. "It lasts, on average, only 3 minutes."
The doctors claim you would have to consume up to 40 Altoids to get the same breath freshening duration of one 2+ hour slow- dissolve ForeverMints micro dot.
"When people ask me to explain the invention," says Dr. Pratt, "I try to put it in terms everyone can relate to. I say it's a tiny breath mint that's one-half the size of a Tic-Tac and is equal to 40 Altoids in duration."
The $29.95 price tag for a month's supply of 100 ForeverMints might seem a bit pricey at first. But when you compare it to what you pay for other breath fresheners, Dr. DeVore claims it's a bargain:
"To get the equivalent duration of a bottle of 100 ForeverMints, you'd have to buy up to 60 Altoid containers, consume over 4,000 Altoids and spend up to $120."
"Adding to the bargain," says Dr. Pratt, "is the fact that ForeverMints are good for you. ForeverMints' ingredients have been proven to kill the germs that cause bad breath while promoting a positive oral health environment —fighting plaque, tooth decay, stimulating salivation for "dry mouth," strengthening and even whitening teeth."
ForeverMints' time-release delivery system took 12 years to develop and perfect. The key to the system is being able to pack a minuscule amount of flavoring and bio-actives (anti-bacterials, whiteners) into a dot-sized tablet and have it last for hours while continuously releasing breath freshening and oral hygiene protection.
"Duration in oral hygiene products has always been a challenge," explains Dr. Pratt.
"What we did was to take natural plant fiber (cellulose) turn it to a fine powder and hydrate and heat it repeatedly to form a moisture resistant barrier that takes hours to dissolve."
"To make a tiny amount of peppermint flavoring last for hours," Dr. Pratt explains, "natural flavor was extracted from a peppermint plant and its molecular structure was altered to increase and boost its flavor profile so that a milligram of flavor will be pleasantly strong and last for hours in the mouth."
"The moisture resistant (time-release) cellulose," concludes Dr. Pratt, "expanded flavoring and bio-active ingredients were mixed and compressed into tiny dot-sized ForeverMint tablets that take hours to dissolve in the mouth."
NeuOra Microceuticals has applied its delivery technology to Vitamin A for chronic pain relief (Neuora-Pain) and chromium piccolinate for appetite and blood sugar control for healthy weight loss (SuppressMint).
ForeverMints are currently available at http://www.ForeverMints.com at the introductory price of $19.95 for a 30-day supply.
Free Samples for Qualified Media:
Qualified media interested in covering ForeverMints can get free sample by filling out request form: http://www.neuora.com/contact.html.