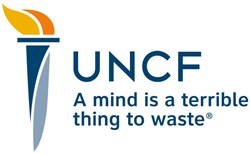 Dayton, Ohio (PRWEB) August 28, 2013
UNCF (the United Negro College Fund), the nation's largest and most effective minority education organization, is proud to announce that Mayor Gary D. Leitzell will host and serve as the keynote speaker for its UNCF Mayor's Luncheon on Friday, August 30, 2013. The event will take place at the Sinclair Conference Center from Noon to 1:00 p.m. (check-in, 11:30 a.m.). The luncheon will bring together Dayton business, civic and education leaders to support UNCF's work to create a college ready culture that provides students with the support they need to get to and through college.
"Our future depends on keeping the pipeline full of young people graduating from college with the education they need to emerge as the next generation of civic and business leaders for Dayton and Ohio. UNCF works to ensure those future leaders have the opportunity to obtain the college degrees they need, and that Dayton and our nation needs them to have," said Maurice Jenkins, senior vice president, UNCF. "Investing in our students' futures today will pay dividends for all of us tomorrow."
"It is my pleasure to host this inaugural luncheon celebrating the work UNCF does on behalf of our city's young people, making sure they have the support to get the education they need and that we need them to have," stated Mayor Leitzell. "Education is the key to Dayton's growth in the 21st century. The young people you are investing in today will be the doctors, teachers, business people and civic leaders Dayton needs to succeed."
In addition to a keynote speech by Mayor Leitzell, the program will also include remarks from Wilberforce University's president, Dr. Patricia L. Hardaway and special remarks from Wilberforce student and UNCF scholarship recipient Jordan Harper.
The UNCF Mayor's Luncheon is presented by AT&T. Sponsor opportunities and individual tickets are still available. For more information, please contact the UNCF office: (614) 221-5309 or via email at: Natalie.Coles(at)uncf(dot)org.
About UNCF
UNCF (United Negro College Fund) is the nation's largest and most effective minority education organization. To serve youth, the community and the nation, UNCF supports students' education and development through scholarships and other programs, strengthens its 37 member colleges and universities, and advocates for the importance of minority education. UNCF institutions and other historically black colleges and universities are highly effective, awarding 21 percent of African American baccalaureate degrees. UNCF administers more than 400 programs, including scholarship, internship and fellowship, mentoring, summer enrichment, and curriculum and faculty development programs. Today, UNCF supports more than 60,000 students at over 900 colleges and universities across the country. Learn more at http://www.UNCF.org. Donations can be sent to UNCF's Houston office: 723 Main Street, Houston, TX 77002 or at http://give.uncf.org/Houston.
###