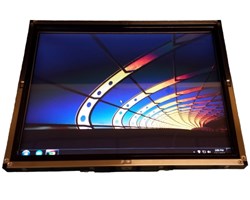 'The EarthTouch Multi-Touch technology provides the best advantages of resistive and capacitive technology for industrial environments.' exclaimed EarthLCD CEO Randy Schafer.
Costa Mesa, California (PRWEB) August 29, 2013
The OF-15.0-VGA-ET "all-in-one" EarthTouch Multi-Touch LCD monitor makes integration into your new or existing application easy. EarthTouch Multi-Touch eliminates problems associated with traditional technologies such as resistive, surface capacitive and SAW. As a perimeter based technology the sensor is independent of the protective glass, providing better durability and improved optical performance. Virtually any object will be recognized as a touch, removing the "bare finger only", "nothing too hard, nothing to soft" constraints many older technologies impose. EarthLCD's EarthTouch Multi-Touch technology provides home and business users with a reliable and durable platform that features a robust multi-user, multi-touch capability at a significantly lower cost than has previously been possible.
Commercial and industrial applications include: ATM machines, industrial equipment, instrumentation, kiosks, military, medical, arcade games, marine, security, test equipment, gaming, or any application requiring a color LCD display.
EarthLCD's EarthTouch Multi-Touch interactive touchscreen technology is changing the way we interface with devices. It introduces a whole new dimension of interactive possibilities by allowing the user to feel connected and in control of their experience. The OF-15.0-VGA-ET has true Multi-touch performance with touch points and real-time touch area data provided for all touch points.
EarthTouch Multi-Touch Technology is a revolutionary new 2D and 3D tracking technology that will produce highly effective and accurate results at a cost well below that of systems currently on the market. Based on a proprietary imaging technology, EarthTouch Multi-Touch tracking technology is capable of accurately measuring the position of a given object's shadow.
EarthLCD History
Founded in 1994, EarthLCD.com is a U.S.-based division of Earth Computer Technologies, Inc. that specializes in designing and manufacturing cost effective LCD products for industrial and OEM applications worldwide. The company's mantra of "We Make LCDs Work" has successfully earned them recognition as the supplier of choice for LCD connectivity. For more information, visit http://www.earthlcd.com.