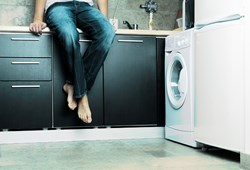 The reason Distinctive works well on all your laundry items, colours and delicates is because its optical brightener and bleaching agent free.
London, Northampton, Rugby, Coventry, Leicester, Birmingham (PRWEB UK) 30 August 2013
We all sweat; it is our body's way of cooling down when we are running, or getting too hot. But did you know there are actually two kinds of sweat and the second goes into overdrive in teenage years. When children hit puberty their 'apocrine glands,' the glands associated with hormone development, secrete, a thicker sweat substance. If collected fresh it has no odour, but when it combines with bacteria on the skin's surface it becomes distinctly smelly very quickly. This is the teenage boy and girl sweat smell that we are familiar with. The glands are found in the armpits, belly button, groin, nipples and ears. This sweat has nothing to do with cooling the body down, but more to do with the body's response to stress, anxieties and sexual excitement. This helps to explain why the odour is worse in teenagers sitting exams, spending longer in bedrooms revising and lets face it, teenagers are not the best at showering or putting their clothes in the washing bin often enough.
Now we understand the issue and can explain to the teenage fraternity the reason for regular showering and putting on clean clothes; however, now that they are back to school and college there is still the smelly room to tackle.
Rather than using scents to mask the smell, the lady of laundry, and CEO of Distinctive Wash Ltd, Louise Knowler has some simple steps to neutralise the odour and have a pleasant smelling room again. She advises you start by opening the window to start the ventilation - as you will probably need the fresh air. Then begin, by removing all dirty laundry, socks, or unmentionable offending items that have hidden themselves down the side of the bed, behind furniture in bags, etc., and clear the floor of all clutter. Strip bedding down to the mattress and remove from room along with pillows and any cushions etc. The washing machine is going to be kept busy at this point and it's better to get the duvet and pillows on first so they've got time to dry, remembering dust mites aren't killed if you wash at 30 degrees unfortunately, so it's a good idea to give the duvet a wash at 60 degrees or higher. But don't be mistaken into thinking you cant use your regular powder hot if you normally use a low temperature formula, you can, its just the hot water denatures the enzyme content. "If you iron your bedding you don't need to wash the covers at 60 degrees either, says Louise, as ironing is a great way of sterilising. Now to start the room neutralising process by steaming the mattress on both top and bottom, making sure you don't forget the edges and ensuring that it has fully dried before putting it back in place. Be sure to follow the instructions for your steamer and use at arms length to avoid any nasty burns. Steam clean the carpet and leave to dry, or wash the floor if you have wood or laminate."
Louise believes by now that the room should be beginning to smell better, "Use the sniff test on curtains, as these may well smell quite awful too, steam/dry clean or wash according to instructions, most curtains will either hand wash or wash gently in a modern machine on low temperatures and if in doubt it may be a trip to the dry cleaners."
Louise recommends at this stage to close all windows and doors and leave for a few hours as the best way of knowing if you have fully neutralised things and attend to the bedding. "For the bedding," Louise says, "wash in a quality washing powder, but for extra brownie points and that best mum status you could use Distinctive, with its designer fragrance for men, not only will it smell great but it also contains special sticky bud technology that is heat activated to release the scent as it warms up helping the room to smell better for longer and let's face it, we know how much teenagers like to spend time in their beds! Boys also experience wet dreams so another way to avoid any embarrassment is to teach them to use the washing machine and get into good habits - changing their bedding once a week."
There are many household cleaners and all work well on the hard surfaces to clean out the grime and gunk and everyone has their preference. Once the room is fresher, reintroduce all your clean soft furnishings.
Louise says, "The reason Distinctive works well on all your laundry items, colours and delicates is because its optical brightener and bleaching agent free." The enzyme content is strong enough to get to work on all those biological manly stains and foot odour even at 30 degrees. Your son will certainly notice how nice it smells and love you for it, and it can help boost his self-confidence knowing he smells so good. Distinctive have had customer feedback that ladies and children love the masculine fragrance too, so you can expect daughters will be equally happy to be ensconced in their bedding and clothes washed in Distinctive.