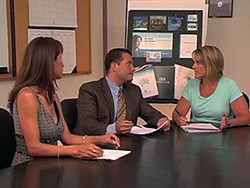 Novi, Michigan (PRWEB) August 29, 2013
Mastery Technologies announces a new content partner educating trainees on a prevalent health risk; stress. Stress Stop, offers a complete library of stress management resources. As illness and absenteeism is a continual issue in the work place, a quality stress management program should be a top priority at every organization. Stress Stop Video On Demand (VOD) courses are available on BusinessTrainingPower.com for $24.95 per play.
Stress Stop has been a provider of stress management material for the past 10 years. All of Stress Stop's training materials are produced based on up-to-date medical and psychological information. Their material is effective because it incorporates proven techniques to guide the person to recognize and cope, based on their stress profile.
Catering to a variety of industries, Stress Stop's creative enactment of training through their videos will adhere to the needs of an array of professionals. Their training materials are effective through a variety of methods:
•Show people that stress starts in their own mind
•Reduce the cost of employee and patient wellness programs
•Educate employees, patients and executives about managing their stress levels
Our newest VOD meets the demands of the variety of devices customers use by playing on tablets, PCs and Macs, and smart phones. Using these courses provide the customer, and/or employee, the power to train at their convenience, and alleviates stressors of being limited to the accessibility of a work computer. The new Stress Stop training courses cover:
•Recognizing stress
•Mastering stress
•Managing stress
•Emotional eating
All of Mastery's VOD courses include a topical index, displayed on the side of the video when not in full-screen mode. VOD courses end with a quiz, including feedback on question answers. VOD courses provide large images which appear sharp when viewed in a normal video window. Full screen display sizes are provided, delivering clear audio and sharp video, even when projected or displayed on HDTV screens. Video On Demand titles play on all devices, including desktops, smart phones and tablets.
About Mastery Technologies Inc.
Mastery Technologies, founded in 1974, has partnered with leading video content providers to co-produce the largest interactive multimedia training library available to the workplace health, safety and environmental marketplace. Today, Mastery is extending their model to encompass all areas of workplace training. Mastery has helped thousands of companies develop greater competency and have created safer and secure workplaces. By expanding the scope of training Mastery believes it can enhance customer benefits, and help build more successful and effective organizations. Mastery's ultimate vision is to help reach every working individual with quality training.