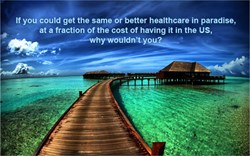 When looking for Quality and Value for your company and your members, look no further.
Marblehead, MA (PRWEB) August 29, 2013
The Medical Concierge Tourism International (MCT) website addresses the new phenomena referred to as "medical tourism," which is defined as the practice of traveling abroad to have medical procedures performed, is growing rapidly in popularity in the United States,and based on a study by Deloitte is expected to reach nearly $50 billion in outsourced care by 2017. MCT offers World Class medical and dental care with full concierge door to door service. MCT is different as it has a full board of medical advisors and is run by healthcare professionals focused on patient care.
Cathy Nenninger, healthcare executive and president of MCT, shares that "the website delineates the advantages of the MCT experience: Affordable medical procedures, access to cutting-edge technologies, better outcomes, superior care, lower infection rates, and a friendly caring environment with close proximity to the U.S. When looking for value and quality for your company and members, look no further."
Medical Concierge Tourism International is a Medical Cost Containment company serving companies, municipalities, unions and their members to control costs while providing world class dental and medical care. Care is presently provided at JCI Accredited Facilities in Costa Rica and Puerto Rico with other easy-to-access countries soon to come on board.