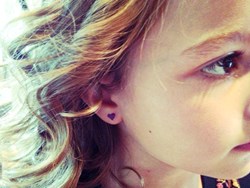 made from all natural, food-grade vegetable dyes and free of potentially harmful chemical ingredients
Denver, CO (PRWEB) August 29, 2013
Ever tried to rationalize with a six year old, or worse yet a three year old? If so, you know it is nearly impossible. Those same little girls want nothing more than to imitate their Moms and big sisters and the question of ear piercing, dreaded by many Moms, is inevitable. Poppy Drops, pierce-free vegetable dye earrings, to the rescue!
When it comes to their children, parents want them to stay kids for as long as possible, even when those same tots just want to rush right into big kid territory. With Poppy Drops, parents have a unique way of letting their little ones indulge in grown up goodies, like earrings and manicures, without worrying about whether they're ready for the real things yet.
The start of a new school year inevitably means the start of their pleas for getting pierced ears. This is a big step for young girls and one that could involve needles, infections, playground accidents, and more. For the parents who want their kids to enjoy the fun of earrings without the potential for pain, Poppy Drops are the perfect solution. These no pierce earrings are made from all natural, food-grade vegetable dyes and are free of potentially harmful chemical ingredients making them hypoallergenic, easy to apply and change out, and the perfect peace of mind for health conscious parents.
For girls aged tots through teens, Poppy Drops' Tattoo Nail Art keeps fingernails fashionable and manicures from getting messy. With this line there are no hair curling odors, harmful chemicals, or fears of spilling because each temporary tattoo requires just a little bit of water to transfer. Each tube carries twenty nail tattoos in designs ranging from adorable bumble bees to flowers and sassy zebra hearts, and can be applied straight to the nail or over polish.
To learn more about this ingenious, new accessory line for kids, visit http://www.poppydrops.com.