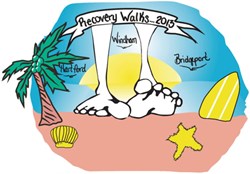 Just by attending, everyone at the Walk proclaims the message of hope to the person new in recovery that 'if all these people can recover, so can I.
Hartford, Connecticut (PRWEB) August 29, 2013
Recovery Walks! is a highly anticipated celebratory event for those in recovery from addiction to alcohol and drugs, as well as for their families, friends, and supporters. In addition to walking, participants will "put a face on recovery" as they share how their journey has brought hope and redemption back into their lives. This year features the Faces of Recovery photo display and Artists in Recovery exhibit to reflect images of the recovery process. This is an inspirational time for the Greater Hartford community to come together and support those who transform their lives through the healing power of recovery.
The event will host live music by Shaded Soul in addition to exhibits, arts and crafts. This year, Connecticut Governor Dannel P. Malloy, Hartford Mayor Pedro E. Segarra, and Patricia Rehmer, Commissioner of the Connecticut Department of Mental Health and Addiction Services will be speaking at the event.
Retired probate judge, lawyer, former state legislator, and person in recovery since 1981, CCAR Board of Directors William Leary said that the event is a highlight of CCAR's many programs to promote recovery through advocacy, education, and service.
"The annual CCAR Recovery Walks! has become such an important event in my life. What a thrill it is to walk with my peers in recovery and show the world that recovery is entirely possible and that CCAR is such a positive force."
Phillip A. Valentine, Executive Director of CCAR and person in recovery since 1987, said, "At our first Walk in 2000 we hoped for 50 people to attend. Amazingly, 700 persons in recovery, friends, families and the public showed up. Just by attending, everyone at the Walk proclaims the message of hope to the person new in recovery that 'if all these people can recover, so can I'. The growth of CCAR and the turnout at the Walk are evidence that persons in recovery hold jobs, pay taxes, raise families and contribute every day throughout Connecticut."
Recovery Walks! is being held during the 24st annual National Alcohol and Drug Addiction Recovery Month, which is one of almost 500 Recovery Month events throughout the month of September (http://www.recoverymonth.gov). Recovery Walks! is also a part of a rapidly growing movement, Rally for Recovery, which celebrates those who are living proof of the reality of long-term recovery from addiction and tallies their total number of years of recovery nation-wide (http://www.facesandvoicesofrecovery.org/rally).
These events are exciting and important ways to make a powerful and lasting impact on the community regarding the experiences of recovery from addiction. They offer the opportunity for those in recovery to register to vote, speak with elected officials, and celebrate their growing visibility.
All are welcome to attend this free event. Participants can register at the event, and start a walk team, or make a donation at http://www.firstgiving.com/ccar. More information is available on CCAR's website at http://www.ccar.us
About CCAR:
Since 1998 the Connecticut Community for Addiction Recovery (CCAR) has organized the recovery community (people in recovery, family members, friends and allies) to 1) put a face on recovery and 2) to provide recovery support services to help sustain recovery. By promoting recovery from alcohol and other drug addiction through advocacy, education and service, CCAR strives to end discrimination surrounding addiction and recovery, open new doors and remove barriers to recovery, maintain and sustain recovery regardless of the pathway, all the while ensuring that all people in recovery, and people seeking recovery, are treated with dignity and respect. CCAR envisions a world where the power, hope and healing of recovery from alcohol and other drug addiction is thoroughly understood and embraced.