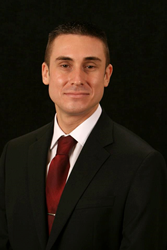 "After working for only a few days, I realized that Axia was just as dedicated to providing me with the knowledge and assistance I needed to learn my trade."
- Mark Howbrook, PR associate at Axia Public Relations
Jacksonville, FL (PRWEB) August 29, 2013
Axia Public Relations promoted Mark Howbrook to public relations associate. Howbrook joined the firm as an intern in September 2012.
Prior to Axia, Howbrook earned his Bachelor of Arts degree in History while simultaneously taking multiple courses in business, marketing and communications.
It was his experience in writing, research and strategic thinking that led him to pursue an interest in public relations. Upon graduation, Howbrook sought and obtained an internship with Axia Public Relations.
"I was excited, if a little nervous to be learning about a profession in such a novel way," said Howbrook. "After working for only a few days, I realized that Axia was just as dedicated to providing me with the knowledge and assistance I needed to learn my trade. When offered a position, I was thrilled to have the chance to continue working with such a great team of mentors."
Howbrook assists efforts in public relations campaigns for the firm's national clients, including social media engagement, writing public relations materials, developing media lists, drafting news releases and pitching news stories to reporters.
Originally from the UK, Howbrook has lived in the Middle East and South America, and has called Melbourne, Fla. his home for the past 12 years. Howbrook quickly adapted to the Florida lifestyle, and enjoys fishing, canoeing and trips to the beach.
About Axia Public Relations
Axia Public Relations is a public relations firm specializing in regional and national campaigns designed to drive new customers to and increase revenue for its clients. In Greek, the word axia (ak-see-a) means "worthy" or "having value." Axia Public Relations' services and award-winning programs include brand and product media relations, digital PR, social media, crisis management, reputation management, corporate communications, spokesperson training, thought-leadership and speaking engagements as well as award and recognition programs. The firm's accolades include earning Florida's top PR award, the Florida Public Relations Association's Dick Pope All-Florida Golden Image Award; PRWeek's Rising Stars of PR; Best Places to Work; and two nominations for the Edward Lowe Foundation's Florida Companies to Watch list. For more information, contact Axia Public Relations by phone at 888-PR-FIRM-8 (888-773-4768) and online at http://www.axiapr.com.