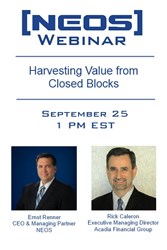 This webinar will provide Life and Annuity professionals tips and best practices for managing closed blocks of business.
Hartford, CT (PRWEB) August 28, 2013
NEOS LLC, a business consulting and technology services firm with unparalleled experience in business and technology transformation efforts, announces the availability of a free webinar on "Harvesting Value from Closed Blocks" on September 25, 2013 at 1 pm EST.
NEOS CEO, Ernst Renner, partners with Acadia's Executive Managing Director, Rick Calderon, to provide Life and Annuity professionals tips and best practices for managing closed blocks of business.
Closed blocks of business can represent a cost and resource burden for many life and annuity companies. Typically, it becomes a factor when faced with acquisition, system modernization or allocating resources to develop new products or markets. This "burden" can represent a path to value as well, but how do you harvest that value?
There are several options available to most companies, ranging from moving to strategic platforms to divesting the business. The issue is that it is not a "one size fits all" proposition. Dealing with a portfolio requires a precise strategy. Ernst and Rick will discuss different approaches for resolving the disposition of closed blocks of business. They will present methods for determining the best approach and how to execute to that plan.
This is the first of a series of webinars that NEOS will host focusing on a variety of topics within the financial services, insurance and information media industries. Ann Woods, Communications Director at NEOS LLC, says "The webinars are an exciting opportunity to show the depth of NEOS' expertise while interacting with other professionals in the industry. Our goal is to share valuable insight from our firm to other industry professionals." The webinars will include experts from across industries to maximize value to attendees.
To register for upcoming webinars, please go to http://neosllc.com/Webinar/WIP.html.
About NEOS LLC
NEOS is a management consulting and technology services firm with unparalleled experience in holistic modernization, enterprise data and business operations consulting throughout the US, Europe, the Middle East and Asia. Clients range from large mid-cap companies to the Global 1000 segments including financial services, insurance and media. Services also include process, organizational and operational consulting, enterprise architecture strategies and design, reviews and planning, deployment and data analysis. NEOS is the parent company of Vgo Software that specializes in modernization analysis and conversions solutions.
About Acadia Financial Group
Acadia Financial Group is the trade name for Acadia Holding Corporation, a privately held Delaware corporation with offices in Miami, Florida. Acadia Financial Group encompasses Bermuda based Acadia Life International Limited, Acadia Life Limited and Acadia Wealth Management Ltd. The activities Acadia Financial Group as exclusively related to managing non-US insurance, annuity and wealth management firms.
Acadia Life International Limited and Acadia Life Limited are both licensed in Bermuda to carry on long term insurance activities on an exempt basis. Acadia Wealth Management Ltd. is a Bermuda separate accounts company that offers investment products in the form of Preferred Shares. Sales for all Bermuda firms are conducted on a Private Placement basis. We make no sales to Bermuda residents and do not carry on solicitation or sales activity in the US or in any other prohibited jurisdiction.
The Group is supported by the services of Miami based Flamingo Software LLC, its affiliated web based insurance services and administration firm.