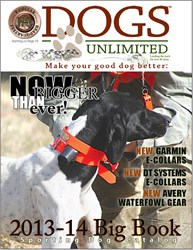 Think of your hunting vest as your gear bag on your back.
Hudson, CO (PRWEB) August 29, 2013
Planning on hunting upland birds locally or will you travel to find them? Dogs Unlimited has come up with the top 5 items that are essential to any gear bag. There are the obvious items that every upland hunter knows they need - a hunting license for the state they're hunting, a quality shotgun, a great pair of boots that are broken in so they're comfortable and easy on the feet and, of course, a quality hunting dog.
Here's a list of items Dogs Unlimited has determined as essential to any gear bag -
1. Hunting Chaps - Quality chaps will keep you in the field longer than a plain pair of jeans. As Alan O Davison, owner of Dogs Unlimited says, "Make sure the chaps you choose fit your hunting environment and are sized correctly. Properly fitted quality chaps will feel great and keep thorns, briars, cactus, sand burrs and other nuisances from ruining your day in the field."
2. Hunting Vest - The hunting vest is essential because it does so much more than carry birds, it transports shotgun shell, first aid supplies, water, gloves and more. Davison states, "Think of your hunting vest as your gear bag on your back except you're carrying just what you need. Also, the vest should fit your specific hunting conditions, much like the chaps. Does the hunting situation require blaze orange; if it's so hot, mesh will feel better than cloth; in the field for hours, perhaps a vest that will carry a lot of water is the best choice."
3. GPS Dog Tracking System - Not only will most GPS Dog Tracking Systems track a hunting dog, they'll also offer the selection of waypoints like a truck or other hunter specified location. As Davison states, "I never put a dog on the ground when upland hunting without a GPS collar. It's peace of mind knowing which direction and how far away they are from my location and if I'm in an unfamiliar country, I can always find my way back to the truck."
4. Hunting Glasses - A quality pair of hunting glasses will keep dirt and grit out of a hunter's eyes when the wind's blowing, and if hunting in heavy cover, they'll protect the hunter from the occasional unforeseen branch. "Often an overlooked item, but it's been my experience that a good pair of glasses will enhance my hunting experience. My eyes are protected and less tired at the end of the day," says Davison.
5. Hunting Gear Bag - The gear bag is about as essential as it gets. A good gear bag will help keep gear in the right place so it can be found at a moment's notice. Most all gear bags will do the trick for stowing a hunters gear. As Davison says, "Most hunting gear bags are versatile and can be used by upland hunters as well as waterfowlers, it's really a matter of taste when it comes to choosing a gear bag that will work for your particular situation."
So, before heading into the field for your next upland hunting experience, look at your Upland Hunting Check List and make sure the above essential items are represented, and if they aren't, go to http://www.dogsunlimited.com for what you need.