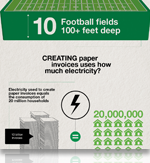 McLean, VA (PRWEB) August 29, 2013
Most AP departments still receive paper invoices instead of e-invoices. Corcentric, a leading provider of Accounts Payable automation and e-invoicing solutions shows just how much paper is involved in the AP process with a new infographic.
Corporate sustainability is a growing topic amongst businesses as companies look at ways to reduce their environmental impact. Electronic invoicing is a key way companies can achieve their green objectives. Corcentric's new infographic shows just how large the impact can be.
To see the newest infographic from Corcentric, go to bit.ly/12KUVxX.
About Corcentric
For more than 15 years, Corcentric's cloud-based financial process automation solutions have revolutionized how the world's largest organizations manage and protect their financial assets. By connecting best practices with deep expertise, Corcentric's ground-breaking Accounts Payable and Accounts Receivable automation solutions have enabled organizations to reduce costs, streamline processes, and provide unmatched visibility executives need to make critical business decisions.
Learn more at http://www.corcentric.com or call 888.525.7677.