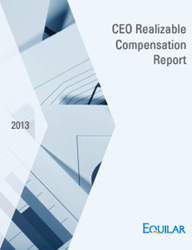 The need for pay for performance transparency brings with it a need to accurately define pay and performance.
Redwood City, CA (PRWEB) August 29, 2013
Equilar, the leader in executive compensation benchmarking and governance research, today released a study analyzing CEO Realizable Pay in the S&P 500. The Realizable Pay calculation continues to grow in popularity by offering companies a new method to calculate CEO pay based on company performance.
Realizable Pay values all compensation elements after performance has been determined and accounts for changes in the value of equity during the performance period, as well as earnings (or forfeitures) of performance-based compensation. The significance of using Realizable Pay can be demonstrated by comparing it to Target Pay, which is a calculation of the intended level of pay that an executive can realize at a targeted or desired level of company performance.
"The need for pay for performance transparency brings with it a need to accurately define pay and performance. There is general acceptance that a company's performance can reasonably be represented by a measure such as total shareholder return or a combination of financial metrics," said Aaron Boyd, Director of Governance Research. "CEO pay, however, does not invoke the same consensus."
In its 2013 CEO Realizable Compensation Report, Equilar found that from 2010 to 2012, the median three-year CEO Realizable Pay in the S&P 500 was $25.6 million, only 3% higher than median Target Pay at $24.9 million. However, the Equilar study also found that Realizable Pay generally varies more than Target Pay when comparing individual companies across industry sectors.
The report discusses other topics including CEO pay composition, industry analyses, and case studies. For more details and a complete review of the findings, request a copy of Equilar's CEO Realizable Compensation Report.
About Equilar (http://www.equilar.com)
Equilar is the leading provider of executive compensation and corporate governance data and measurement tools to corporations, nonprofits, consulting firms, institutional investors, and the media. Using its extensive database, Equilar allows clients to accurately benchmark and track executive and board compensation, equity grants, award policies, and compensation practices. Equilar's C-Suite mapping technology also reveals business networking opportunities by identifying pathways to executives and board members at companies of interest. Equilar's research has been consistently cited by Bloomberg, The New York Times, The Wall Street Journal and other leading media outlets.
For more information on Equilar, please contact:
Via Aquino, (650) 241-6697, vaquino(at)equilar(dot)com