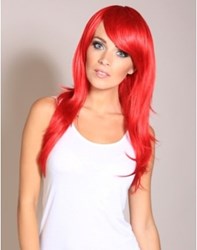 This year, based on recent trends and themes we are expecting red to be a popular choice for Halloween.
London (PRWEB UK) 29 August 2013
Fancy dress takes on a whole new level at Halloween, with people all over the world dressing up as Goblins and Ghauls to celebrate this fright night. People often opt for red hair as their colour of choice according to retailer, Wonderland Wigs.
Now Wonderland Wigs have revealed their predictions for the top 5 Red Halloween Wigs for 2013...
1. Sabrina - a long dark red wavy wig. She is perfect if you want to dress up as Poison Ivy or another super hot super hero.
2. Butterfly - a bright red long layered wig. Another popular wig for Poison Ivy or perfect for Captain America.
3. Zena - a unique bright and dark red 2 tone wig. This is perfect for completing a devil outfit.
4. Bianca - a dark red ombre wig. At £26.99, this wig is great for people who want to try something different and stand out from the crowd. Another great option for devils or possibly a zombie look.
5. Fizz - an extra long bright red wig. If length is important then this is perfect, at 32 inches it sits below waist length and will perfectly complete any Halloween costume.
Samantha McClements, co-owner of Wonderland Wigs says "Last year our black, red and coloured wigs were our most popular shades for Halloween. This year, based on recent trends and themes we are expecting red to be popular again. Although fancy dress is not our 'primary market' we do find that our wigs prove very popular over Halloween when our customers want to do fancy dress, but want to make sure they look good!"
For hi res images, comments or further information please contact Wonderland Wigs.