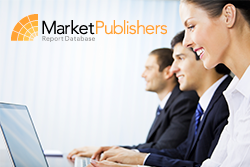 London, UK (PRWEB) August 28, 2013
The world membrane separation technologies market is projected to reach USD 16bn by end-2017. Growth will be spurred by rising efforts made by end-use industries to reduce water use and minimize costs on wastes disposal. Other factors driving market growth encompass surging concerns over the quality of water, stringent regulations regarding the quality of food and drinks, and a move towards replacing traditional filtration systems with membrane-based technologies. The United States continues to remain the largest country market. Growth in the world membrane separation technologies market is likely to be driven by the BRIC nations and others with large, developing industrial bases and stressed local water resources. Microfiltration membrane systems continue to be the largest segment in the market.
Dow Chemical Company, Culligan International Company, E.I. DuPont De Nemours and Co., Degremont SA, FilmTec Corporation, GE Water & Process Technologies, Millipore Corporation, Pall Corporation, Koch Membrane Systems Inc., Parker Hannifin Corporation, Praxair Inc., Siemens Water Technologies are some of the most prominent market players.
Comprehensive market research report "Membrane Separation Technologies" worked out by Global Industry Analysts Inc. (GIA) has been recently published by Market Publishers Ltd. According to the study, the global demand for membrane separation technologies is expected to grow substantially by the end of 2017.
Report Details:
Title: Membrane Separation Technologies
Published: June, 2013
Pages: 410
Price: US$ 4,950.00
http://marketpublishers.com/report/industry/other_industries/membrane_separation_technologies.html
The research study offers an in-depth analysis of the membrane separation technologies market in a global scenario, focusing on the major geographic markets such as the United States, Canada, Japan, Europe, the Asia-Pacific region, the Middle East, and RoW. The report provides annual estimates and forecasts from 2010 to 2018, besides giving a six-year historic analysis for all geographic markets covered. It also comprehensively reviews current market trends, growth inhibitors, new product launches, M&As and other strategic industry affairs. Furthermore, details of the leading and niche global and regional market players are also included.
Report Scope:

All-round overview of the industry state (historical and current), covering major economic indicators, leading factors driving the market growth, key market challenges and opportunities, prevalent industry trends, technological advancements.
Comprehensive analysis of major product segments, such as microfiltration, ultrafiltration, reverse osmosis, nanofiltration, and other technologies.
Competitive environment analysis along with valuable data on major barriers to market entry.
Keen insight into membrane separation technologies.
Extensive overview of product introductions and launches.
Up-close look at recent industry activities.
Detailed profiles of the prominent market players.
Insightful country and regional market analyses.
Worldwide membrane separation technologies market perspective.
More comprehensive market research reports by GIA can be found at http://marketpublishers.com/members/gia/info.html
About Us:
MarketPublishers.com is a multilingual hypermarket offering a rich collection of comprehensive studies on various markets, sectors, industries, companies, etc. We perform professional services aimed to equip our clients with high-quality research products and support critical decision-making.