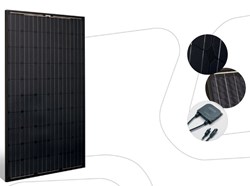 (PRWEB) August 30, 2013
WINAICO USA is excited to announce that their triple black module will become available in the United States starting in October. The sleek, fully black, 60 cell monocrystalline module will be offered in a 260w panel option. The triple black module will be added to their already impressive line-up of high performance 60 cells modules: 260w (polycrystalline) and 280w (monocrystalline). WINAICO also plans to introduce a fully black 265w module in the coming months.
Jing Yu, Vice President of WINAICO USA, commented, "WINAICO constantly strives to develop solutions that not only provide the best quality and highest efficiency, but also options for homeowners that are concerned with aesthetics." WINAICO modules have ranked highest among competitors in efficiency, winter performance, and low-light. The triple black module option is a 'win-win' solution for solar installers and homeowners.
WINAICO modules are produced on a state of the art automated production line and have been carefully designed with German engineering to minimize electrical leakage and utilize innovative Anti-PID technology and Hot-Spot Prevention. The strong, rigid frames ensure the modules easily install and line up and provide reliable performance over time. They carry a 12 year product warranty and 25 year linear performance warranty backed by WINAICO's financially strong, profitable parent company.
Call 610-203-9277 or email usa(at)winaico(dot)com for module pricing.
Press contact:
WINAICO USA
Jing Yu, VP of Winaico USA
Tel.: + 1 646 520 7673
E-mail: usa(at)winaico(dot)com