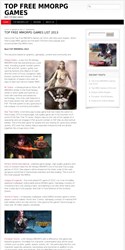 Los Angeles, CA (PRWEB) August 30, 2013
TopFreeMMORPG.net (http://topfreemmorpg.net), a leading games website, has improved and updated its top lists that feature the best new and upcoming MMORPG games of 2013 and beyond. The website was originally centered around the Top MMORPG 2013 list which is dedicated to reviewing the best free to play (f2p) MMORPG games of the year. Now, two additional top lists have been added: the best new releases of 2013 and the upcoming MMO games list.
Although at first glance, the articles seem to be similar to each other, editor Markus Fournier explained that they each serve a unique function, as detailed below:
Top Free MMORPG 2013 (http://topfreemmorpg.net/top-free-mmorpg-games-list-2013/) - This is an opinion piece that features the best MMORPGs. It contains mini-reviews, links and information about the current top MMOs that are fun, popular, and have a good track record of well-received expansions or updates.
Best F2P MMO Games 2013: New Releases Only (http://topfreemmorpg.net/best-f2p-mmo-games-2013-new-releases-only/) - Many players are looking for something new to play and this particular website feature is meant to help them find the best of the newly launched MMOs. Only currently playable games are listed including those that are in the closed or open beta testing phase.
Top MMORPG 2014 (http://topfreemmorpg.net/top-mmo-games-2014-list/) - One of the most popular and quoted articles on the TopFreeMMORPG.net website, this lists the most anticipated upcoming MMOs that are due to be launched next year on the PC, Playstation 4 (PS4), and Xbox One. None of these have been released yet so they are not playable. Most have a release date of 2014 though some have unknown launch dates. Links to the official websites of the upcoming games are given so that gamers can find out more about the game and even sign up for beta testing.
"We have had a great year so far but we don't want to rest on our laurels. We at topfreemmorpg.net continue to improve our website so that there is now a lot more content," said Markus Fournier, editor. "Apart from our regular reviews, we found that people really like top lists. So we added two more that we think people will really appreciate. These are the lists of the newly launched MMOs and the upcoming MMORPGs that are currently under development."
For more information, visit the website at topfreemmorpg.net.
About TopFreeMMORPG.net
TopFreeMMORPG.net delivers online MMORPG reviews and opinion articles through its dedicated and skilled team of writers who provide insight, assistance, guides, game play reviews, videos, commentaries, and a friendly community. An innovator in the field of MMO games writing, TopFreeMMORPG.net is always looking for new and better ways to deliver content.