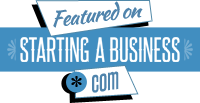 We wanted to empower more entrepreneurs to start their business themselves.
Spokane, WA (PRWEB) August 29, 2013
Local business Northwest Registered Agent announced the launch of their new website, startingabusiness.com on Wednesday, August 28, 2013. With the new acquisition of the startingabusiness.com domain, Northwest Registered Agent now plans to help future business owners by making the daunting aspects of starting a business more attainable.
Although they have long been known in the industry as a leader in registered agent services, Northwest sees this acquisition as a positive business move that will help them reach a new set of clients in the beginning stages of starting a business. They see startingabusiness.com as the go-to place to help entrepreneurs start their businesses and will offer an interactive checklist for each state as well as highlight many top business bloggers.
"We wanted to empower more entrepreneurs to start their business themselves," says Drake Forester, Chief Legal Strategy Officer at Northwest. "Hopefully they like what they see and make a decision to use the resources on startingabusiness.com."
Forester goes on to speak about the importance of having the right domain name, saying, "We've found that it is difficult to sell a service, much less to get people to visit your website when the target keyword is not in your domain name URL."
Upon initially searching for the startingabusiness.com domain, they realized it had already been bought by a Domainer, who they were then able to purchase the domain from.
"People coming to a site named northwestregisteredagent.com automatically think of registered agent service, not starting a business. People don't associate our company website with incorporating, forming an LLC, or starting a business. With the acquisition of a premium domain name such as startingabusiness.com, people will naturally head there when thinking about starting a business."
You can find the original release at http://www.northwestregisteredagent.com/press-releases/2013/announcing-starting-a-business-website-launch.html.