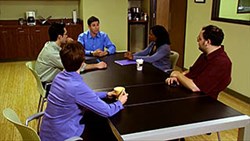 Novi, Mi (PRWEB) August 28, 2013
Mastery Technologies welcomes new content partner, Access Training Media, and its parent-company, Video Visions to its training content network. These content providers depict up-to-date scenarios of issues that arise in business and office environments. These new partnerships bring unique titles to Mastery's catalog, offering present-day depictions of business workplace issues, such as social media exposure, lack of leadership and tackling virtual meetings.
Both Access Training Media and Video Visions take pride in offering flexible, video training. Their content is engaging and effective because the programs produced are produced to be realistic and represent modern business issues. Common training topics include; leadership, customer service, interviewing, teamwork, communication, empowerment, meetings, and workplace violence.
This week, Mastery is releasing course titles from both partners:
•Access Training Media
-Leading More with Less
-Customer Service Gone Viral
•Video Visions
-Managing Me
-Virtual Meetings: The Invisible Meeting
-Leadership: What's Trust Got to do with it?
Mastery Technologies continues to update and release course titles on its third-generation VOD platform. The Video Visions and Access Training Media course titles are on the new platform and play seamlessly on all mobile devices. These Video On Demand (VOD) course is available for pay-per-play pricing at $24.95 per play. Mastery's VOD courses contain the entire instructional presentation of a training course. All of Mastery's VOD courses include a topical index, displayed on the side of the video when not in full-screen mode. These courses end with a quiz, including feedback on question answers.
VOD courses provide large images which appear sharp when viewed in a normal video window. Full screen display sizes are provided, delivering clear audio and sharp video, even when projected or displayed on HDTV screens. Video On Demand titles play on all devices, including desktops, smart phones and tablets.
About Mastery Technologies Inc.
Mastery Technologies established the e-learning industry's first Training Content Network. Mastery partners with leading video content providers to co-produce the largest, standardized, workplace e-learning library available. Mastery goes beyond connecting customers with content, by pro-actively supporting both customers and content partners. In this way Mastery fulfills its mission of helping build more successful, effective and amazing organizations.