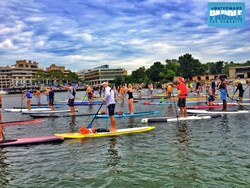 Washington, DC (PRWEB) August 28, 2013
Paddlers from around the US will descend on Washington D.C. this Labor Day weekend for Watermans Paddle for Humanity's third annual race on the Potomac River in front of Washington Harbours. Register today at: http://www.paddleforhumanity.org/html/Events-WashingtonDC.html
Paddle for Humanity is a grassroots paddling event series with the stated purpose of bringing the paddling community together to support humanitarian causes. The event is the largest and most prestigious paddle race in the region, drawing competitors from as far away as Florida and California to the iconic venue for the weekend. Paddle for Humanity is open to all paddle craft, including canoes, kayaks, surf skis, dory's and traditional paddleboards.
The national event series has grown year after year and has been nominated for 3 consecutive years as one of the top philanthropic events in the paddling community raising both funds and awareness for organizations like the Navy SEAL Foundation, Oceans of Hope, Best Day Foundation and many others. The events continue to grow and attract record numbers of participants and spectators with events in Deerfield Beach, FL, Minneapolis, MN, Washington, DC, Austin, TX and Newport Beach, CA.
First and foremost, Paddle for Humanity is a fundraising event. Twenty percent of the proceeds from each entry fee are donated to one of five charitable organizations chosen by the paddler. Participants are also encouraged to raise additional funds for the organization of their choice. This year's recipients include: The Best Day Foundation, LUNgevity, The Ocean of Hope (O2H) Campaign for the Sarcoma Alliance, the Navy SEAL Foundation and Talk About Curing Autism (TACA).
This year's Paddle for Humanity national event series sponsors include, SUP ATX, LiftSUP, Watermans Sunscreen, Futures Fins, Landshark Lager, Fender Guitars, and Tito's Vodka. Landshark will be hosting the event pre-party and awards ceremony at Sequoia's Grill on the waterfront. Fender has signed on to provide custom paddle for humanity guitars to the winners of select events.
As part of the race weekend SUP ATX will be hosting a pre-race clinic and demo at the world famous Washington Canoe Club. The clinic will give first time competitors a chance to experience the course, learn from pros and demo new equipment. The clinic is totally free, open to the public and will run from 4pm-6pm on Friday August 30th on the docks at the Washington Canoe Club.
For more information including dates, locations and registration, visit http://www.paddleforhumanity.org.
The Paddle For Humanity is a sanctioned WPA event series. For more information visit http://www.worldpaddleassociation.com.
***
About the Paddle for Humanity:
The Paddle for Humanity has raised more than $100,000 since its inception in 2009 and helped galvanize paddling communities across the country. The Paddle for Humanity is open to all paddle craft. For more info visit http://www.paddleforhumanity.org.