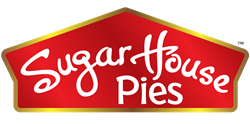 New holiday flavors are sure to please even the pickiest party-goer.
Salt Lake City, Utah (PRWEB) August 28, 2013
Head chefs at Sugarhouse are hard at work on new, exclusive frozen desserts for the holiday season. The experienced bakers have created new combinations of fresh produce and spices, and hope that their masterpieces will become mainstays in family celebrations for years to come. The release of the new Caramel Apple, Sea Salt and Caramel French Silk, and Cherry/Apple latice flavors are sure to add new favorites to the list of family traditions this year. These pie manufacturers have been creating pies for years and consistently deliver them to the table with the homemade taste and quality their buyers have come to depend on. Because the holidays are such an important time for gatherings between family and friends, Sugarhouse goes into overdrive every year as the colder months approach.
Sugarhouse suppliers for fruit pies have made a tradition of releasing new flavors for the holidays, and many families have made it their own tradition to try the new frozen desserts. Everyone knows that the holiday season is one of the busiest times of the year, and it is especially so for family matriarchs and patriarchs in charge of heading up the gatherings and reunions. The pressure to deliver and keep relatives happy—and happily fed—is relieved by Sugarhouse, one of the highest quality dessert distributors in the state.
Because Sugarhouse pie manufacturers offer their desserts in convenient, frozen forms, the treats are easy for anyone to prepare and serve. Experienced pie bakers trust Sugarhouse over all suppliers for fruit pies because they provide the same quality and taste as homemade, scratch-baked pies. Inexperienced cooks and bakers also prefer the frozen desserts from Sugarhouse because they are packaged with step-by-step instructions, and are easy to prepare, while still impressive when served chilled. The Cherry/Apple Latice pie comes complete with easy baking instructions, while both the Caramel Apple and Sea Salt Caramel French Silk are need only thaw and serve. Both camps of holiday hosts and hostesses are eagerly looking forward to the new seasonal flavors available from Sugarhouse pie manufacturers. The new innovations won't require any new work for event planners, so Sugarhouse sees the situation as a win-win.
Sugarhouse executives are very excited about the upcoming release of their new and exclusive holiday flavors, but they still stand by their tried and true line of traditional pie options, such as Pumpkin and Apple. Go ahead and try a new fruit combination this Thanksgiving, Christmas or Hanukkah. The new Caramel Apple, Sea Salt Caramel French Silk, and Cherry/Apple Latice are sure to please even the pickiest pie eaters this holiday season.
To learn more about the selection available or place your order, visit http://www.sugarhousepies.com.