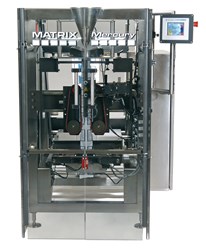 Saukville, WI (PRWEB) August 28, 2013
Matrix, powered by Pro Mach, will showcase at Pack Expo, September 23-25 in Las Vegas, the high-speed Mercury HS vertical form-fill-seal machine equipped with the patented Smart Gate™ product concentrator. This solution is designed to significantly improve the throughput of both narrow and wide bags of health foods and snacks and generate greater profitability per run (Matrix Booth C-2221).
Narrow Bags
Form-fill-seal bagging operations running at 60 narrow bags – 3.5 inches across or less – per minute can expect speeds between 100 to 120 units per minute on the Mercury HS featuring Smart Gate. Smart Gate can reduce the time it takes for a total charge of product to be packed in a narrow bag by close to 70 percent. With the Smart Gate concentrator, bags have a higher percentage of in-specification seals – fewer open bags – and operations personnel spend less time on problems and more time on value-adding activities.
"When filling very small bags that do not contain a lot of product, it's difficult for a contract packager or brand owner to make much money per bag," said Smart Gate co-developer Michael Krummey, who holds dual roles at Matrix in controls engineering and research and development. "And smaller bags are harder to run at high speeds because the product is typically too spread out. That is where Smart Gate really helps. It concentrates the food and delivers a shaped charge faster than ever before. The combination of Mercury HS and Smart Gate offers an extremely powerful packaging solution."
Wide Bags
For optimum flexibility, Smart Gate can be removed from the Matrix Mercury HS when wider bags are run on the packaging line. The Mercury HS fills and seals up to 140 bags per minute. Bag widths run on the Mercury HS range from 1.75 to 11 inches and bag lengths from 2.5 to 15 inches. Standard features of the Mercury HS include stainless steel construction, Matrix Smart Jaw horizontal sealing technology, color touch screen operator panel (multilingual), and an Allen Bradley MicroLogix PLC control system. Compared to other high-speed machines, the Mercury HS has a small footprint, which helps to conserve valuable floor space.
Every Mercury HS offers a self-centering film drive down system, automatic edge guide film tracking, a short travel angled incline film unwind, each of which contributes to precise film movement and trouble free operation. Tool-free quick-change core chucks help to ensure fast changeover between jobs. These units can be used with a wide range of fillers.
Video and additional product details on the Mercury HS and the Smart Gate are available online. For more information on the full range of Matrix vertical and rotary bagging machines, call 888-628-7491 and visit http://www.MatrixPM.com.
About Matrix
Matrix Packaging Machinery is an industry-leading manufacturer of vertical form-fill-seal (v/f/f/s) packaging equipment. Since 1988 Matrix has built a solid reputation for delivering rugged, well-engineered, cost competitive, and easy-to-use packaging systems backed by outstanding customer support. Matrix has machines in operation throughout the world, handling a wide range of products in very diverse conditions. http://www.MatrixPM.com.
About Pro Mach
Pro Mach is a leading provider of integrated packaging products and solutions for food, beverage, household goods, pharmaceutical, and other diverse consumer and industrial companies. Through multiple business units and related brands, Pro Mach provides equipment, installation, training, parts, and service in primary and secondary packaging, flexible packaging, end-of-line packaging, material handling, and identification and tracking.
Pro Mach has a diverse customer base, from Fortune 500 companies to smaller, privately-held businesses worldwide, which depend on reliable, flexible, technologically advanced packaging equipment and integrated solution sets. Pro Mach is headquartered near Cincinnati, Ohio with manufacturing facilities and offices throughout the United States and Canada. For more information about Pro Mach visit our website at http://www.ProMachInc.com.