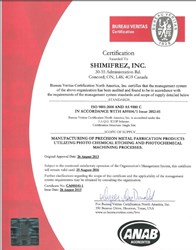 (PRWEB) August 29, 2013
Shimifrez Inc.(http://www.shimifrez.com) announced today that Concord Facility has successfully implemented their quality system and achieved certification to the AS9100 Revision C standard. The AS9100 standard supplements ISO 9001:2008 with requirements tailored to the aerospace industry.
"Shimifrez is committed to a culture of continuous improvement. This latest AS9100 certification illustrates our ongoing efforts to improve in all areas of our business. We began the process to become AS9100C certified almost a year ago because we saw an opportunity to better serve the aerospace industry and improve our manufacturing system," stated Hassan Nojoumi. "We already observe stringent quality standards because we supply highly regulated industries such as medical and micro electronics. AS9100C certification for the aerospace industry was a natural next step. It demonstrates our commitment to quality."
With 30 years of experience, Shimifrez specializes in fabricating light gauge metal components. The scope of Shimifrez's activities in photo etching and electro-forming is far reaching and can include creating critical metal components for instrumentation's such as micro meshes/grids, lead frames, ultra micro metal parts, gimbal springs, reticles, damper shims, wave guides, RFI/EMI/ESD and board level shielding, BPP's for fuel cell applications to consumer products such as speaker grills. Components can be manufactured in stainless steels, brass, nickel alloys, beryllium copper, phosphorous bronze, invar, kovar, inconel, DCB substrates and aluminum alloys, to name a few.
Shimifrez offers a rapid-response service to deliver micro metal components to several precision industries such as the aerospace/satellite, automotive, telecommunications, micro-electronics and defense sectors. The demand now exists for relatively thin between 0.0005" (0.01mm) to 0.032" (0.8mm) complex and intricate metal components where tooling is very inexpensive, and modification to photo tooling can be done quickly and economically. Photo etching has no effect on magnetic properties of the metal, or deformation whether internal stresses or thermal, resulting to a burr-free component.
Shimifrez Inc. facility is located at 55 Administration Rd, Unit 30 in Concord, Ontario, just north of Toronto, Canada. For more information of how Shimifrez can help you enhance your product line, please call 905-695-6898 or email photoetch(at)shimifrez(dot)com.