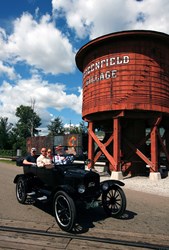 Dearborn, Mich (PRWEB) August 28, 2013
Experience the innovation that took place during the early years of the automobile with vehicles dating from the 1890's through 1932, during the 63rd annual Old Car Festival inside Greenfield Village, September 7-8. In continuation of Henry Ford's 150th birthday celebration, this year's festival will feature Henry's letter cars that helped revolutionize the car industry, from the Model A to the Model T, along with running replicas of his early automobiles and running demonstrations of his Kitchen Sink Engine.
Discover the different pathways that the technology of the automobile sparked through the collection of commercial vehicles, electric and steam powered vehicles, luxury cars, race cars, bicycles, and motorcycles. Speak with the owners of hundreds of vehicles, watch drivers show off their skills in early motor contests, witness the assembly of an actual Model T, and kick back at the pass-in-review parade where experts will provide information and fun facts about vehicles as they drive by. Join roadside historian Daniel Hershberger near the Scotch Settlement School each day for a presentation discussing the important aspect of early highway development and motoring history along with a special 1920s Auto Touring exhibit featuring a restored 1927 Auto-Kamp fold-out tent trailer, manufactured in Saginaw, Mich., and other period camp vehicles.
The Henry Ford will be running four historically significant cars from its own collection during the weekend, including two historically significant vehicles built by Henry himself - the 1896 Quadricycle, Henry's first attempt at building a gasoline powered car, and the 1901 race-winning Sweepstakes, used to beat the established race car manufacturer Alexander Winton. Guests will also see the alternatively fueled 1922 Detroit Electric Coupe and a 1929 Packard Roadster, known for its luxury and style and built in Detroit's own Packard plant.
On Saturday, stay late until 9 p.m. to enjoy live music from The Hotel Savarine Society Orchestra, a gaslight parade of cars through Greenfield Village, and a fireworks show to close out the evening. Old Car Festival is free with membership or admission to Greenfield Village; tickets are $22 for adults, $21 for seniors (62 and up) and $16 for youth (5-12). Children under five are free. For more information, call (313) 982-6001 or visit http://www.thehenryford.org.
About The Henry Ford
The Henry Ford in Dearborn, Michigan is an internationally-recognized cultural destination that brings the past forward by immersing visitors in the stories of ingenuity, resourcefulness and innovation that helped shape America. A national historic landmark with an unparalleled collection of artifacts from 300 years of American history, The Henry Ford is a force for sparking curiosity and inspiring tomorrow's innovators. Nearly two million visitors annually experience its five attractions: Henry Ford Museum, Greenfield Village, The Ford Rouge Factory Tour, The Benson Ford Research Center and The Henry Ford IMAX Theatre. A continually expanding array of content available online provides anytime, anywhere access. The Henry Ford is also home to Henry Ford Academy, a public charter high school which educates 485 students a year on the institution's campus. For more information please visit our website thehenryford.org.