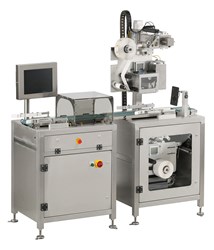 Rocky Mount, NC (PRWEB) August 28, 2013
Ossid, powered by Pro Mach, features at Pack Expo 2013, September 23-25 in Las Vegas, its 1500 series of weigh-price labelers. This series of weigh-price labelers is designed to improve the productivity of a packaging line with accurate and flexible label placement in high-speed continuous motion – up to 120 units per minute. The machines in this series are ideal for weighing, pricing, and labeling packages from 12 to 20 inches in length and packages with contours such as poultry and ham. (Ossid Booth C-2417)
The 1500 series can run both top and bottom labels in a variety of sizes with true type fonts and graphics up to 4 x 5 inches. The series is capable of printing 21 different bar code symbologies, including 2D and QR codes. A physical contact finger tamp system ensures accurate label placement on each package. The machines feature automatic print height and angle adjustment capabilities from 0 to 90 degrees in 1-degree increments.
The 1500 series automatically collects data for every package to create real-time reports that can be delivered via email, smart phone, or tablet devices. Ossid's optional OEE software tool can help to identify changing operational conditions that reduce effectiveness. The 1500 series connects to business systems and allows automatic order processing and tracking, remote user training, off-site maintenance, software upgrades, and more.
An intuitive Windows® based user interface is designed to help operators learn the system quickly and to enable fast access to information. The system can be set up as a check-weigher with the addition of a simple diverter/kickoff mechanism. Engineers designed the 1500 series with its stainless steel construction to stand up to the overall harsh environment found in wash-down settings.
For more information on the 1500 series of weigh-price labelers, stop by the Ossid Pack Expo booth C-2417. To learn more about the company's full line of high speed packaging equipment, including weigh-price labelers, overwrappers, horizontal form-fill-seal machines, and in-motion case-weight scales, contact the Ossid sales department at 1-800-334-8369 or visit http://www.Ossid.com.
About Ossid
Ossid, powered by Pro Mach, is a leading North American designer and manufacturer of packaging equipment solutions for fresh and processed protein products, convenience foods, medical devices, and consumer goods. Ossid's principal product lines are weigh-price labelers, case-ready tray overwrappers, horizontal form-fill-seal machines, and in-motion case-weight scales. http://www.Ossid.com
About Pro Mach
Pro Mach is a leading provider of integrated packaging products and solutions for food, beverage, household goods, pharmaceutical, and other diverse consumer and industrial companies. Through multiple business units and related brands, Pro Mach provides equipment, installation, training, parts, and service in primary and secondary packaging, flexible packaging, end-of-line packaging, material handling, and identification and tracking.
Pro Mach has a diverse customer base, from Fortune 500 companies to smaller, privately-held businesses worldwide, which depend on reliable, flexible, technologically advanced packaging equipment and integrated solution sets. Pro Mach is headquartered near Cincinnati, Ohio with manufacturing facilities and offices throughout the United States and Canada. For more information about Pro Mach visit our website at http://www.ProMachInc.com.