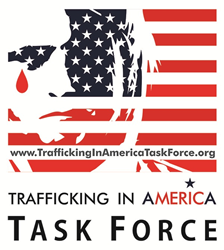 Law enforcement in one major US city stated recently that they cannot keep up with the human trafficking cases. If that is the case in one city, it is the case – or soon will be – for all of them.
(PRWEB) August 29, 2013
http://www.traffickinginamericataskforce.org Human Trafficking within the borders of the United States is affecting every metropolitan city in the country and their surrounding rural areas due to anonymity for the buyers of illegal sex (Johns), and vulnerabilities of the citizens, and without regard to socio-economics, race, age (average age of a victim is now 13 for girls and 12 for boys), or gender (30% are boys). And, while education about the issues fueling the demand is on the rise, it is imperative that resources for rescuing victims continue to be put in place. "Law enforcement in one major US city stated recently that they cannot keep up with the human trafficking cases. If that is the case in one city, it is the case – or soon will be – for all of them," states Yvonne Williams, Co-founder and President of Trafficking in America Task Force (TIATF).
"Becoming involved in victim rescue was the next logical step for us," said, Williams. "When we were asked to rally financial support for a victim that needed to be rescued and transported from one state to another, we had only hours to raise the funds to pay for the flight, lodging, and other necessary expenses to pull this rescue off and free her from the pimp. We did our best and many rose to the occasion." Williams continues with a profound sense of accomplishment, "I had just laid down that evening knowing that the battered soul was on her way to safety and felt really good that we were able to play a small part in her rescue. Not 5 minutes after my head hit the pillow the phone rang." While the young woman was waiting to board the plane, her pimp found her and took her back into his controlled world by beating her and posting photos of the beating on social media sites as a statement!
Those facilitating the rescue soon realized that, had funds been available that morning, the victim could have taken an earlier flight that day and not had to wait all afternoon and into the evening to board the flight. She would now be safe and on her journey to wholeness sleeping peacefully at night.
As a result of this, TIATF decided to create an on-going fund for victim rescue so that when the needs arise the funds will be on hand and lessen the chances for another rescue to go sour. TIATF is developing the connections necessary to facilitate rescue through a group of experienced Private Investigators and Non-Government Organizations (NGO'S) involved in hands-on rescue, Nonprofits that are able to provide housing and victim services, and law enforcement to be on hand for the hard tasks that are needed to facilitate emergency matters.
TIATF partner organization, Bishop Outreach Ministries (BOM), has dedicated all their efforts to help educate and expose the connection between Gangs and Human Trafficking in the United States, an area that is often overlooked in anti-human trafficking efforts, but accounts for the majority of human trafficking cases.
Regarding rescue BOM says, "One reason why rescue is so rare is because once a girl is trafficked she becomes both a hidden and a moving target for anyone seeking to rescue her." Recognizing key indicators of human trafficking is the first step in identifying victims and can help save a life. Not all indicators listed below are present in every human trafficking situation, and the presence or absence of any of the indicators is not necessarily proof of human trafficking.
Indicators of Human Trafficking:
Does the person appear disconnected from family, friends, community organizations, or houses of worship? Has a child stopped attending school? Has the person had a sudden or dramatic change in behavior? Is the person disoriented or confused, or showing signs of mental or physical abuse? Is the person fearful, timid, or submissive? Is the person often in the company of someone to whom he or she defers? Or someone who seems to be in control of the situation, e.g., where they go or who they talk to? Does the person have freedom of movement? Can the person freely leave where they live? Are there unreasonable security measures?
The safety of the public as well as the victim is paramount. Do not attempt to confront a suspected trafficker directly or alert a victim to any suspicions. It is up to law enforcement to investigate suspected cases of human trafficking.
You can be a part of helping to bring victims of human trafficking to safety. TIATF has implemented a 24/7 victim assistance toll free number. For help call 888-225-0498.