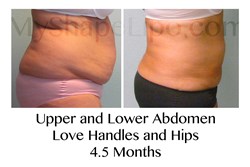 We see so many women that simply don't want a tummy tuck because of the increased risk and cost.
Las Vegas, NV (PRWEB) August 29, 2013
Choosing between abdominal liposuction and a tummy tuck procedure is a very common choice that many women are faced with. Unfortunately, the decision is not an easy one and is highly dependent on the patients' beliefs and desires. Thanks to new techniques in liposuction, the decision is much easier.
At MyShape Lipo of Las Vegas, they help their patients to make the right decision on a daily basis. As a specialty liposuction clinic, their staff is bombarded by women trying to get accurate information to help them make the right decision for themselves. What is right for one person may not be right for another, so it's important that women are well informed about the decision.
A common misconception about liposuction is that the patient will be left with loose hanging skin. This simply is not true. "Typically the skin tightness an individual has before the procedure will be comparable to the tightness they have after. But the volume and bulk will be significantly decreased," says Trevor Schmidt PA-C, Liposuction Specialist at MyShape Lipo. Schmidt has performed over 15,000 liposuction procedures of which he draws his experience.
With the latest techniques in liposuction, there are significant benefits that to patients that are leading many away from the tummy tuck. With lower cost, quicker recovery, minimal scars, and safer procedure, liposuction has obvious benefits over the tummy tuck.
Pros for Liposuction:

Removes 70-80% of the fat
Completely avoids the risk of general anesthesia
Minimal scars
Return to work within 1-3 days
Significantly less pain and bruising
Improved shape to look and feel better in clothes
Lower cost
Considerations for Tummy Tuck:

Removes excess skin
Leaves large obvious scar from hip to hip
High risk of general anesthesia
Requires at least 1-2 weeks off work for recovery
Higher cost
Higher risk for complications
"We see so many women that simply don't want a tummy tuck because of the increased risk and cost," says Schmidt. "These women do very well with liposuction of the abdomen and tend to be very happy with the results."
There are definitely those individuals that would be better off with a tummy tuck, but the majority of women will likely be happy with the results from liposuction. Those that have mild to moderate looseness of their skin do have the option of Smart Lipo Laser skin tightening in addition to the liposuction.
The Smart Lipo laser use heat to cause contraction of the skin. It also has been shown in studies to increase skin tightening up to 47% when compared to liposuction alone. In addition it has been shown to increase collagen growth for 6 months after the procedure which will improve thickness and tightness of the skin.
About MyShape Lipo
MyShape Lipo is a speciality liposuction clinic located in Las Vegas, NV. Their Liposuction Specialist, Trevor Schmidt PA-C has performed over 15,000 procedures to date. Patients fly in from around the world for their specialty services and affordable prices. For a complimentary consultation call 702-818-5476 or visit them online at http://www.MyShapeLipo.com.