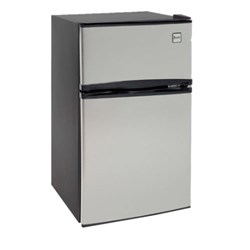 Austin, TX (PRWEB) August 30, 2013
Compact Appliance is excited to offer more Avanti products to its already large line of compact refrigerators. Whether it's for the dorm or at the office, Avanti counterhigh refrigerators answer the call for conveniently chilled beverages or snacks.
One of the two new Avanti products Compact Appliance is now offering is the Avanti 4.0 Cu. Ft. Counterhigh Refrigerator. This refrigerator includes in-door storage compartments and a can dispenser. While this refrigerator is compact, it provides you with slide-out shelves and a separate full-width chiller compartment. To accommodate any placement of the refrigerator, it has a reversible door that can be changed to open from the left or right side.
Another product available is the Avanti 3.1 Cu. Ft. two-door compact refrigerator/freezer. This unique compact refrigerator offers customers both a refrigerator and freezer. Unbelievably functional for its size, it also has a can dispenser, a clear crisper drawer, and a reversible door. Simply put it's a mini-refrigerator that fits the smallest of spaces with a high level of functionality. Each model offers styles and colors to match any room in black, white, and black and stainless steel.
"We are exceedingly grateful for our partnership with Avanti. We stand behind their quality, and we are excited to offer our clients more of these wonderful products," says Kara Zorn, Director of Category Development.
A combination of both style and function, Avanti products have earned a reputation of great value and quality manufacturing. Consumers can now find new Avanti products at Compact Appliance, part of the Living Direct family.