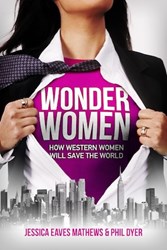 Albuquerque NM (PRWEB) August 29, 2013
Entrepreneur and business attorney Jessica Eaves Mathews presented a keynote speech at the eWomen Network Reno Accelerated Networking event in Reno, NV on August 21st, 2013. Ms. Mathews' talk, entitled "Wonder Women: Why Western Women Will Save the World" focused on why the American Dream is broken, tips on how to become your own "superhero," and how to save oneself and the economy through entrepreneurship.
Ms. Mathews and co-author Phil Dyer explore the causes of, and solutions to, the current broken business model in America in their upcoming book Wonder Women: How Western Women Will Save the World. The authors claim a new movement based in a better way of doing business is underway, and women and a nurturing, relationship-centered feminine energy are leading the movement. "Wonder Women" are upturning societal and business norms and making the business streets safe again.
The Wonder Women book is being released on September 17th, 2013. The book is currently available for pre-order exclusively on Amazon.com. To find out more about the book and to sign up for updates, please visit http://www.wonderwomenbook.com.
About eWomen Network:
eWomenNetwork, Inc. is widely recognized as the Premier Women's Business Network in North America. Their dynamic and diversified culture celebrates the brilliance of women entrepreneurs, business owners and corporate professionals.
The Reno/Carson/Tahoe chapter of eWomenNetwork is led by Managing Director Annie Goni-Stewart. For more information and to register for eWomenNetwork Reno/Carson/Tahoe Chapter events, visit http://www.ewomennetwork.com/chapterHomePage/chapterHomePage.php?chapterCode=NV101.
About Jessica Eaves Mathews:
Jessica Eaves Mathews is America's Advocate for Women in Business™, an award-winning entrepreneur and intellectual property and business lawyer, bestselling author and speaker, and leading authority on helping women entrepreneurs and women business owners step into their power and create a brilliant business and a brilliant life on their own terms. She has been featured on MSNBC, Oprah, Forbes.com, NBC, Oxygen, Allure Magazine and is the Silver Stevie award winner for Female Entrepreneur of the Year 2012. For more about Jessica, visit http://www.jessicaeavesmathews.com
Jessica has spent her legal career representing all types of businesses from solopreneurs to Fortune 500 companies. Before launching her own firm, she was the head of litigation and compliance for Paul Allen, the co-founder of Microsoft. Jessica is the founder of Leverage Legal Group, the premier, global intellectual property and business law firm for the new economy. Jessica's team of exceptional, experienced attorneys provide world-class, flat fee legal services, virtual general and outside counsel, and in-sourced legal services. The firm's award-winning, entry-level program Leverage-a-Lawyer provides budget-friendly, flat-fee legal services, information and education for first-time business owners or startups, who don't yet have the budget for full-blown legal counsel. Visit http://www.leveragelegalgroup.com for more information about the firm.
Jessica has continued to get experience "on the other side of the conference table" as Founder and CEO of Grace & Game, the only luxury American lifestyle brand for both golf and for the sophisticated, feminine, modern women. Grace & Game designs are made in the USA with sustainable fabrics and are designed to perform beautifully both on and off the course. Look for Grace & Game online at http://www.graceandgame.com. She is also Founder and CEO of Untoxicating Beauty, a new subscription beauty experience for women who care as much about what goes into their bodies as what they put on them. http://www.untoxicatingbeauty.com
She is also an adjunct professor at University of New Mexico Law School, is an appointee on the New Mexico Economic Development Council, is co-founder and Chief Legal Officer for The Virtual Accelerator, a virtual business accelerator for startups, and is the co-founder of Hautepreneurs, a new networking organization for women entrepreneurs based in Albuquerque, New Mexico.