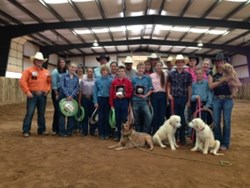 Ribera, NM (PRWEB) August 30, 2013
The FOX Business Channel will air a moving and inspirational look of the Imus Ranch for Kids With Cancer in Ribera, New Mexico this Labor Day.
The Imus Ranch was founded in 1998 by nationally syndicated radio personality Don Imus and his wife Deirdre Imus, national leader for children's health and the environment. The ranch was conceived and designed with the sole purpose of providing the experience of the great American cowboy to children suffering from cancer or serious blood disorders, and children who've lost brothers and sisters to Sudden Infant Death Syndrome. The objective is to encourage in them a sense of achievement, responsibility and self-esteem, and to instill pride and restore their dignity as they become aware of just how much they are able to accomplish. Many have become convinced that because they are sick they are not normal. At The Imus Ranch they quickly discover that they can do anything any other kid can do. Well over 1,000 kids have.
Write to us at The Imus Ranch P.O. Box 250, Ribera, New Mexico 87560 or donate to The Imus Ranch