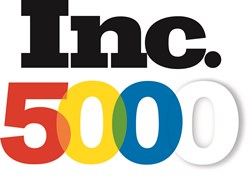 "With a recent focus on two major market disruptions: mobile and data, we have been able to offer our clients award-winning mobile apps & websites and complex & sophisticated analytics solutions"
New York, NY (PRWEB) August 30, 2013
Resolute Digital, a New York City based digital ad agency offering proprietary tools and custom solutions, today announced that it has been ranked as one of the fastest growing advertising & marketing companies in the nation on the 2013 Inc. Magazine 500|5000 list.
According to Eric Schurenberg, Editor in Chief, Inc. Magazine, "The Inc. 5000 was harder to get into this year than ever in its history. The average honoree grew a mind-boggling 468 percent. Those are results most businesses could only dream of in the economy of the past three years."
With a three-year growth of 426% and annual revenue exceeding $7 million in 2012, Resolute earned the position #1010 on the list as it grew its business across each of its three key areas of expertise: Digital Strategy & Consulting, Design & Development, and Marketing & Analytics. "With a recent focus on two major market disruptions: mobile and data, we have been able to offer our clients award-winning mobile apps & websites and complex & sophisticated analytics solutions," said Managing Partner Brian McNamee.
As Google Analytics Certified Partners for over three years, Resolute became one of a handful of Google Premium Authorized Resellers and has been able to expand its services westward opening an office the Los Angeles area. Resolute continues to focus on execution, delivering on-time and on-budget digital solutions for clients ranging from startups to Fortune 200 companies.
The Inc. 500|5000 is ranked according to percentage revenue growth when comparing 2009 to 2013. To qualify, companies must be U.S.-based, privately held, for profit and independent—not subsidiaries or divisions of other companies—as of December 31, 2012.
Resolute Digital is a digital agency that builds proprietary tools and custom solutions, which enable our clients to more intelligently engage their customers. Resolute provides services in three areas: Design & Development, Analytics and Media Planning & Buying. With an engineering and media team in our NYC and LA offices, Resolute has a strong record of delivering cutting-edge multi platform web, mobile and media experiences on time and within budget. Resolute has been selected by Google to be an Analytics and AdWords Certified Partner as well as a Google Analytics Premium Authorized Reseller.