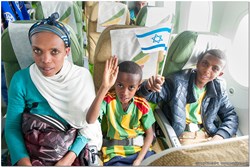 New York, NY (PRWEB) August 28, 2013
Some 450 new immigrants from Ethiopia boarded two Jewish Agency-chartered flights bound for Israel on Wednesday, August 28 and arrived in Tel Aviv a few hours later. Since 2010, thousands of Ethiopians have immigrated to Israel as part of Operation Dove's Wings. Today's flights bring this historic effort to a dramatic close. Upon the flights' arrival at Ben Gurion Airport, there was a welcome ceremony with family members and partner organizations.
Earlier this morning, a farewell ceremony for the 450 olim (new immigrants) was held at the Israeli Embassy in Addis Ababa, with Jewish Agency Chairman Natan Sharansky Israel's Minister of Immigrant Absorption Sofa Landver, and Israel's Ambassador to Ethiopia Belaynesh Zevadia. Shortly thereafter, the two chartered flights organized by The Jewish Agency flew to Ben Gurion Airport in Israel for a welcome ceremony with Agency representatives, the Absorption Ministry, the Jewish Federations of North America (JFNA), the International Fellowship of Christians and Jews (IFCJ), Keren Hayesod-United Israel Appeal, as well as other donors and supporters.
The new immigrants' relatives were on hand to greet them as were The Jewish Agency partners in Completing the Journey of Operation Dove's Wings, Israel's Ministry of Immigrant Absorption, The Jewish Federations of North America (JFNA), the International Fellowship of Christians and Jews (IFCJ), and Keren Hayesod – United Israel Appeal (KH-UIA), among others. Speakers at the airport welcoming ceremony on August 28th will include: Jewish Agency Chairman Natan Sharansky, Sofa Landver, Minister of Immigrant Absorption, Housing Minister Uri Ariel, IFCJ President Rabbi Yechiel Eckstein, KH-UIA Chairman Eliezer (Mody) Zandberg, as well as KH-UIA member Airtom Clerman and JFNA member Danny Labin, among others.
Operation Dove's Wings began in November 2010 with the Government of Israel (GOI)'s decision to bring 8,000 Falash Mura in Gondar to Israel. The GOI tapped The Jewish Agency to prepare those eligible for entry to Israel and to facilitate their Aliyah in concert with immigration eligibility standards regulated by Israel's Ministry of the Interior and in preparation for their resettlement in Israel by the Ministry of Absorption. Since Dove's Wings' inception, The Jewish Agency brought 7,000 Ethiopian Jews to Israel, the majority of whom are members of the Falash Mura community, and several hundred of whom were eligible for Aliyah through Israel's Law of Return.
To prepare these olim (immigrants) for a successful life in Israel, The Jewish Agency for Israel has run a community center in Gondar, Ethiopia for the past three years and with the support of IFCJ and JFNA. This center has provided a wide range of educational and social services. Upon their repatriation in Israel, The Jewish Agency housed these new immigrants in 17 absorption centers throughout the country that are run by The Agency and Israel's Absorption Ministry.
Speaking at the welcome ceremony at Ben Gurion Airport:
Jewish Agency Chairman Sharansky: "The Jewish community of Ethiopia is one of the oldest in the world, with roots reaching back to the times of King Solomon and Queen Sheba. For thousands of years this community has been yearning for Zion. By completing the Journey of Operation Dove's Wings, we close the circle on a journey that began three thousand years ago." Sharansky also thanked The Agency's partners for their support in bringing these new immigrants home to Israel and in facilitating their absorption into Israeli society, a group effort that began in 1948 and which has, to date, brought 92,000 Ethiopians Jews to Israel. (Sharansky added that The Jewish Agency will continue to help all those who are eligible for Aliyah, per Israel's Ministry of Interior, to move to Israel, as The Agency does for Jews the world over.)
Absorption Minster Sofa Landver: "Three years after I advised the Prime Minister of Israel to bring Operation Dove's Wings to an end, to close the compound in Gondar and to complete the journey of organized Aliyah from Ethiopia, I am proud to take part in this historic event. I wish to thank all our partners and promise that the Government of Israel will do everything in its power to resettle these new immigrants in the best way possible."
Housing Minister Uri Ariel, who has labored for the past 20 years to bring Ethiopians Jews to Israel: "We are finishing an exile of 2500 years. There is no other country in the world like Israel when it comes to its desire to bring its people home. I feel very moved to be a part of this global family. But the work is not over. Now we have to make sure these new immigrants integrate into Israeli society, learning from the mistakes that were made in the past and with a greater sensitivity to this thousands-year old culture. As Housing Minister, I will work tirelessly to make sure these new immigrants receive the loan and mortgage benefits to which they are entitled. This is my duty as well as the government's."
IFCJ's Rabbi Yechiel Eckstein: "I am excited and proud to be a part of the great effort to bring the remainder of Ethiopian Jewry to Israel. The International Fellowship has been an active part of this effort for the past two decades, bringing tens of thousands of Jews from countries of distress and danger throughout the world, from India to Africa and beyond. We are committed to helping every Jew who wishes to come to Israel to fulfill his or her dream. We wish the new immigrants a speedy transition to their new home. In recent years we have invested millions of dollars in Ethiopian absorption efforts and promises to be there for them in the future, as well. "
KH-UIA Chairman Eliezer (Mody) Zandberg: "Keren Hayesod is proud of its continuing efforts to bring Ethiopian Jews to Israel—from the first immigrant's arrival to the last one's. Through the years, Keren Hayesod donors have continuously supported efforts to bring Jewish immigrants to their homeland, whether as pioneers or as new immigrants. Thanks to generosity of Jewish communities around the world, Keren Hayesod has been able to bring immigrants to Israel and help them thrive once here."
President and CEO of JFNA Jerry Silverman: "Today we celebrate a new chapter in the remarkable story of how the Jewish community led the historic campaign to bring Ethiopian Jewry home to the Land of Israel. Jewish Federations are proud to stand at the forefront of this epic story, which began with Operations Moses and Solomon and continues today as Ethiopian Israelis make their mark in Israeli politics and culture."