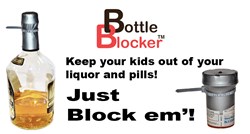 "Most kids get their first taste of alcohol from their parent's liquor cabinet,"
Nesconset, New York (PRWEB) August 30, 2013
For any organization or individual active in the prevention community, part of law enforcement, school boards, PTAs, temples, churches, or any group that has a goal to prevent underage drinking and prescription drug abuse, this is a chance to evaluate a new tool to help in the fight. Teen Stopper Protection, the company that makes the Bottle Blocker, is offering a free sample of the Bottle Blocker for evaluation. The Bottle Blocker is a tamper proof locking device that fits any liquor or pill bottle to prevent unauthorized access at home.
The product was created in response to the staggering numbers of injuries and deaths that occur each year as a result of underage drinking. Alcohol is the most commonly used and abused drug among youth in the United States, more than tobacco and illicit drugs, and is responsible for more than 4,700 annual deaths among youth. Although drinking by persons under the age of 21 is illegal, people aged 12 to 20 years drink 11% of all alcohol consumed in the United States. In 2010, there were approximately 189,000 emergency rooms visits by persons under age 21 for injuries and other conditions linked to alcohol. The 2011 Youth Risk Behavior Survey found that among high school students, during the past 30 days: 39% drank some amount of alcohol; 22% binge drank; and 8% drove after drinking alcohol.
"Most kids get their first taste of alcohol from their parent's liquor cabinet," says LICADD Executive Director Dr. Jeffrey L. Reynolds. "Parents who use Bottle Blocker will send a clear message to their kids that they won't tolerate underage drinking and violation of the device will give them the opportunity to address alcohol abuse before it spirals into a more serious problem. With increased enforcement of social host laws parents need to act affirmatively to both protect their kids and limit their liability."
The simple two-piece device fits on any bottle with a neck, first with a custom latex cap that covers the bottle cap, and is then secured with a cable tie. The ties come in a custom color with an imprinted logo to make them difficult to replace. The Bottle Blocker can also be used on pill bottles – ensuring that prescriptions are safe and out of children's hands.
Richard Michiel, the inventor of the Bottle Blocker is trying to do something to change the statistics affecting our kids and save some lives. "It's my feeling, that once these groups see how easy it is to protect your alcohol and pills at home, they will understand that there is finally something more than just talking to our kids to help with this important fight."
For more information on the Bottle Blocker, and how it could work for your home, please visit http://www.bottleblocker.com.
To get your free sample, please send an email to Richard@BottleBlocker.com with your organizations name and address, and your contact information. It costs you nothing to find out how well this works, but the potential to save the lives of our precious youth is priceless.