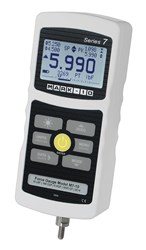 Vernon Hills, IL (PRWEB) August 29, 2013
Designed for the most demanding tension and compression measurement applications, the new Mark-10 M7-012 Digital Force Gauge from Cole-Parmer can be used for up to 500 lbF (2500 N). The gauge features an industry-leading sampling rate of 14,000 Hz with ±0.1% accuracy, producing quick and reliable results for rapid testing applications.
This new M7 series of professional digital force gauges includes advanced functionality such as high-speed continuous data capture and storage, with memory for up to 5,000 readings, at an acquisition rate of up to 14,000 Hz. Units also feature programmable foot switch sequencing and break detection, and include a coefficient of friction unit of measurement. Plus, they offer the ability to export data from the storage buffer to MEASUR™gauge software for further analysis and graphing.
Enhance productivity with automatic data output, data storage, and zeroing functions upon the completion of break detection, averaging, external trigger, and 1st / 2nd peak detection. The gauge is compatible with Mark-10 test stands for functions such as break testing, tensile testing, compression testing, dynamic load holding, PC control capability, and more.
To view the Mark-10 M7-012 Digital Force Gauge from Cole-Parmer, go to ColeParmer.com/20504 or call 800-323-4340 for more information.
Cole-Parmer has been a leading global source of laboratory and industrial fluid handling products, instrumentation, equipment, and supplies since 1955. Our product lines, including popular brand names such as Masterflex®, Oakton®, and more, are sold through company-owned customer channel outlets and a strong network of international dealers. We also feature an ISO-17025-accredited metrology lab for instrument calibration and repair. Cole-Parmer responds with excellence to customer needs, and offers application expertise and technical support. For more information, contact Cole-Parmer, 625 East Bunker Court, Vernon Hills, IL 60061. In the US, call 800-323-4340. International customers, call 847-549-7600. Visit us at http://www.ColeParmer.com