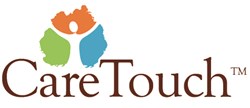 We're making it easier for HMEs to fill the void and capture resupply orders without missing a beat.
Denver, Colorado (PRWEB) August 29, 2013
CareTouch Communications, Inc. announced the launch of a new account transfer service called CareTouch FAST™ (Fast Account System Transfer). The service enables healthcare providers to quickly switch from their previous communications provider to the CareTouch360™ solution.
Over the last few months a handful of resupply and communications providers have left the space, leaving healthcare providers and HMEs looking for a way to continue managing their resupply programs and building revenue. CareTouch™ leverages technology by combining automated and live calls with the web.
CareTouch engages with patients on behalf of the HME to ensure resupply orders are captured on a timely basis. CareTouch FAST™ transfers patient data to the CareTouch360™ platform quickly and seamlessly so that healthcare providers can continue to manage their patients. The solution maximizes technology to reach patients through their desired method of communication including automated and live calls, email or the web.
"Several resupply companies have recently discontinued offering resupply services, leaving a number of HMEs without a way to capture resupply orders. We're making it easier for them to fill the void without missing a beat," said Matthew Dolph, CareTouch COO. "CareTouch has been around for almost a decade and our robust system has proven to be a cost-effective and revenue-producing solution for some of the best healthcare providers in the industry."
CareTouch provides live demos of each of their solutions. Demos may be scheduled by visiting the company's website at CareTouch.net.
About CareTouch Communications, Inc.
CareTouch Communications, Inc. (http://www.caretouch.net) is a leader in patient engagement, communication and management. The company delivers complete technology solutions to Home Medical Equipment (HME) Providers. The CareTouch360™ platform is a device agnostic technology that helps patients achieve therapy compliance through regular, documented communication at established intervals. CareTouch is patient-focused and features an integrated live, multi-lingual call center, IVR and web based solutions focused on sleep and diabetic resupply, sleep adherence, oxygen equipment replenishment, nebulizer supply replenishment, payment collections and manufacturing recall notification. The company is headquartered in Westminster, Colorado.