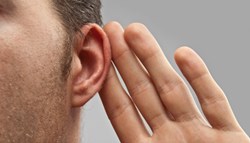 There is great market potential for hearing aids in the U.S. as device penetration remains low.
Vancouver, BC (PRWEB) August 28, 2013
Approximately 39 million Americans suffer from hearing impairment but only a minor number of them have purchased hearing aids. According to a new report by iData Research, there is great market potential for hearing aids in the U.S. as device penetration remains low.
Hearing aids comprise the largest segment of the U.S. hearing device market, accounting for nearly 90% of the total market. Market growth relies largely on the aging population, technological innovation and government programs and regulations.
The relatively low penetration rate of bone-anchored hearing aids attributes to its ranking as the fastest growing segment of the hearing device market with an increase of almost 30% in 2012. "This segment is a relatively captive market as bone-anchored hearing aids are the only treatment option for a specific type of hearing loss," explains Dr. Kamran Zamanian, CEO of iData Research, "As such, the low penetration allows for rapid growth which is expected to continue over the forecast period." The cochlear implant market also shows strong growth. These implants are especially beneficial to infants and very young children with single-sided deafness. In 2012, units sold grew at a double-digit rate. Over the forecast period, the penetration rate is expected to increase to nearly 15%.
Leading competitors include The Sonova Group, GN Store Nord A/S, Phonak, Starkey, Oticon, GN ReSound, Siemens, Widex, Cochlear Ltd, Rayovac, Power One, MED-EL and more. Cochlear has the lions' share of both the growing cochlear implant and bone-anchored hearing aids markets in the U.S. Its experience in producing and refining its products has resulted in technologically competitive products. Wireless access to Bluetooth®-enabled cell phones is among the accessories available for their devices.
iData's comprehensive report series entitled: Markets for Hearing Aids and Audiology Devices includes the latest data, market analyses and competitor profiles for the U.S., China, India, Asia Pacific (Australia, Japan & South Korea), and 15 European countries. This series provides a comprehensive analysis of 35+ markets within the hearing device industry including: Standard Hearing Aids, Cochlear Implants, and Hearing Aid Batteries.
Get a full report synopsis or table of contents for this report here.
About iData Research
iData Research is an international market research and consulting group focused on providing market intelligence for medical device, dental and pharmaceuticapharmaceutical companies. iData covers research in: hearing devices, cardiovascular, orthopedics and more.