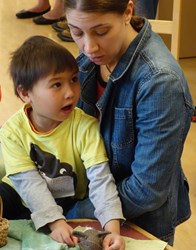 Caring for a child's development and well-being is a big task that many parents are struggling with today. We want to make this process more transparent and simple for parents.
(PRWEB) August 29, 2013
Parenting is a big mystery to many parents today, and to some, child development is an even bigger mystery. There are books that talk about parenting, but there are not many that talk directly about child development, or more specifically, what activities and actions are essential for a child in their first three years to help them develop a well-balanced brain, a healthy physical body, and better character.
To combat this issue, Milaa, a company focused on developing early childhood learning programs, is set to introduce an online parenting platform and offer parents easy-to-follow and easy-to-understand activities that are essential for childhood development in their first three years. "Our goal is to introduce a tool that is simple, intuitive, and yet meaningful for parents and caregivers," says Paul Jan, Milaa's founder and a graduate of the Massachusetts Institute of Technology. "Today's parents are tech-savvy, and we want to leverage this as a channel to deliver useful contents pertaining to their children's development to them," says Jan.
Milaa believes that physical movement is a big part of a child's development, which is why it envisions to educate parents on the ways in which their children can use everyday objects to perform simple, but beneficial activities. "For example, having a child climb up a stool can actually help develop the upper body muscle as well as hand-eye coordination," says Jan. "Such effects correspond directly to the different types of brain development that later translate into learning."
Milaa also believes that every child is unique and general guidelines cannot be applied to all children. "We realize each family's situation is different and therefore need to be heard and dealt with individually," says Jan. "Part of our online platform will enable you to ask questions and get expert feedback. If necessary, we will even schedule a call with the parents and/or caregiver to discuss the situation in more detail. The goal is to assist parents and caregivers to deal with the situation and to care for their children's development," says Jan.
About Milaa
Milaa, an acronym that stands for Morality, Intelligence, Leadership, Athletic, and Artistic, was founded with the following principles:
1. Holistic approach enhances learning, especially at a young age
2. Sensory experiences and the sense of imagination are essential for child development
3. Milaa aims to build a community for parents who appreciate the holistic approach
Milaa's vision is to educate parents concerning the importance of the holistic approach to learning, provide the essential sensory experience for a child's development, and create a community to preserve and advance a child's development.
Milaa is founded in 2013, and is based in Toronto, Ontario, Canada. For more information, please visit its website at http://www.milaainfo.com.