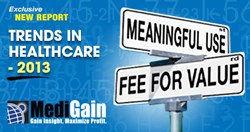 Although there has been a high level of procrastination in the medical community because providers think changes are far away, physicians need to
begin preparations now!
Plano, TX (PRWEB) August 30, 2013
The medical coding and billing provider, MediGain, is now offering a new eBook, Healthcare Trends - 2013, to inform healthcare providers of the latest trends. MediGain's previous eBook, ICD-10: The Top 10 Things You Need to Do NOW, provided a list of 10 steps to begin preparing for the switch.
The report gives an overview of such trends as:

Shifting Reimbursement Models
EHRs
and ICD-10
The subject of much contention in the healthcare community has been the conversion to ICD-10. While the deadline may seem far away, the time to start preparing is now. Practices have been procrastinating largely in part to the amount of time left, but it's also due to anxiety over the entire process.
"There are many ways health care reforms can impact providers," said Eric Beier, MD, MDA, Chief Medical Officer for MediGain. "The best course of action to proactively address these challenges is making adequate preparations. Physicians need to assess their technological capabilities and what will be required in the future."
Get the new report, Healthcare Trends - 2013, here.
About MediGain
MediGain offers a variety of services for U.S. physicians including revenue cycle analytics and automation software, consulting and full-service billing and reimbursements. MediGain provides solutions for physician groups, provider networks, ambulatory surgery centers and hospitals, enabling them to reach their maximum potential through improved operational, financial and clinical outcomes.