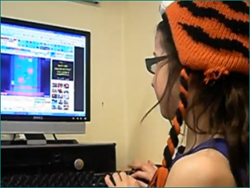 If you can find games that are fun but also have cognitive benefits, kids will play them.
Toronto, ON (PRWEB) August 30, 2013
Teachers can now run a club at their school using computer games that help kids achieve. The games are available online at no charge, curated from websites such as Nitrome or Miniclip that kids already know because they play there for fun. But these particular games, as well as being fun, stimulate particular areas of the brain that contribute to improved working memory, sustained attention, or visual acuity, based on scientific research.
"Kids won't play games that aren't fun," says Mitch Moldofsky, founder of the website, which he calls the Thinking Skills Club in an effort to keep the focus on the benefits rather than the games themselves. "So if you can find games that are fun but also have cognitive benefits, kids will play them and enjoy the benfits in terms of improved attention in class, ability to remember instructions, and so on."
To provide such an array of skills, the website has six sections. As a reward for playing the games in each section, members of the site receive pieces of a brain puzzle which they can view on their school's dedicated Club Page. This also gives teachers a handy way to track progress without the stigma of testing. There is a membership fee for this service.
Although members can play the games at home or at the library, Moldofsky encourages the club format because kids love company. "They end up helping one another and sharing success," he says. "That adds another layer of motivation and enjoyment beyond the games themselves, which I think is invaluable."
Moldofsky, who develops online courses for adults and recently completed a degree in Cognitive Science from the University of Toronto, developed the club over three years at the Toronto school his sons, now 9 and 12 years old, attend. "I was studying about the positive ways video games affect brain function, and I saw all these computers sitting idle in the school library after hours, I put two and two together and voila," he recounts. His academic interest is reflected on the site, which has a "grown ups" side containing links to supporting research.
For teachers who face the problem of how to use technology in the classroom this school year, the Thinking Skills Club is one option that may provide an easy way to make a difference.
About The Thinking Skills Club:
The Thinking Skills Club is an after school activity that uses online games to enhance attentiveness, working memory and other cognitive skills that underlie academic success, for grades 3-8. It is a curated site comprised of a variety of brain-positive games sourced from recreational gaming websites based on published neuroscience research. To learn more about The Thinking Skills Club, please visit http://www.thinkingskillsclub.com/.